This recipe is completely egg free. Store bought marshmallow fluff contains egg whites, so I made my own. For the Pancakes: 2 cups Heart Smart Bisquick 1 1/4 cups skim (fat-free) milk 1-2 Tbsp. light corn syrup (I use the 33% less sugar variety by Karo) 2 packets instant...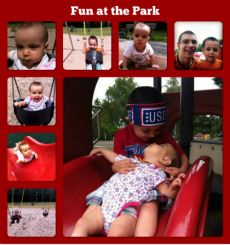 We packed so much fun into the month of July. The sun came out and we enjoyed some park dates with friends (Dietrich has friends of all ages, this particular friend is a teenage boy). Madilynn discovered park swings are fun. For the Fourth of July four-day weekend, we...
When we first moved to Germany, we learned a couple of words very quickly. The first "Umleitung" meaning "detour". The first option to get to our house on the GPS took us straight to an impassable hole in the road and construction. We followed the "umleitung" signs, until we...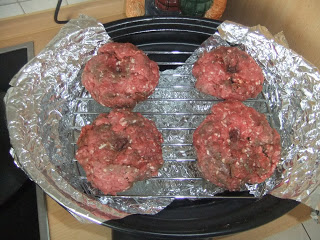 Summer. A time for grilling. Unless you live in Germany, without A/C and 90+ temperature days. A couple of weeks ago, I did steak and baked potatoes in my slow cooker. I forgot to take pictures, but the result was delicious. Anyway, since the steak was a success, I...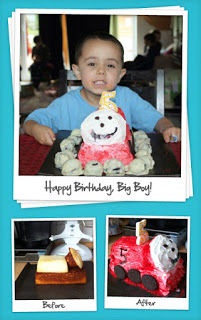 A train cake, of course. Thomas, he said, then he and I changed it to James because James is the #5 engine and red, his favorite color for now. To make it, I baked one regular loaf pan, one mini loaf pan, and one overflowing cupcake (all from one cake mix)....
I'm often amazed at how much Dietrich has faced/endured. He is four years and nine months – give or take a few days – or 57 months. Of that time, Peter has been deployed 29 months (this is only deployments, not extended training or classes that take two to three...
A friend of mine had two "way back time machine" status updates this past weekend, focusing on the Story behind Easter. Each of these posts created vivid images with overwhelming emotions. Some of these thoughts I've had myself, but not as eloquently stated. Here is the first, fixing ones thoughts on crucifixion Friday: It's Sabbath, a...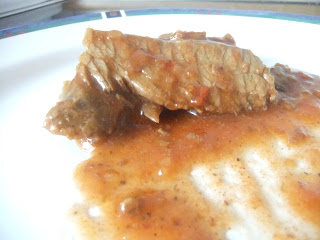 This is for a 4-5 pound beef brisket (or in German a rinderbrust) For the rub:                                            For the sauce: 2 Tbsp. Liquid Smoke          ...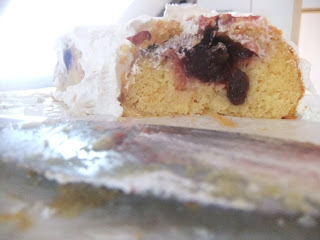 This is a combination of a couple of recipes but simplified to only FOUR ingredients. 1 Yellow Cake Mix 1 1/2 cups Buttermilk 2 heaping spoonfuls of sour cream 1 can whole cranberry sauce Mix the first 3 ingredients together. Layer cake mixture – cranberry sauce – cake mixture in a...
Most people would likely consider themselves as "good". Many of those claim to believe in God and the Bible. Some of them even claim to be Christians. While "62% of people (in the U.S.) say that they are deeply spiritual" "only 14% make their decisions based on what God's...