SQT ~ the Purge and setting up house
Posted On June 5, 2015
Our stuff arrived on Monday. We have too much a lot of stuff. This became abundantly clear as they brought things in and asked where to put them and I ran out of thoughts (though that was partially due to the poor labeling system of the movers on the other end. Boxes that say "clothes" or "toys" or some illegible jibberish do not help me know where they go). The other part of the problem is squeezing four sets of bedroom furniture into a three-bedroom apartment.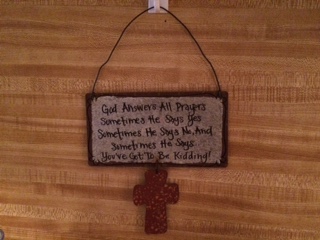 ~1~
Not all military moves are created equal. In our move to Germany, all of our furniture arrived without damage. All of our dishes arrived unbroken. The broken dish count is up to three. The furniture problem, I'm still in the "I just can't even…" category regarding the broken glass top of the antique German dresser we bought as part of a bedroom set from an estate sale (mostly for the Shrank). The movers on this side were in shock, as well. I had them unwrap several things (TV's, pictures) and check everything with me, just so I would have witnesses – those things were fine.
~2~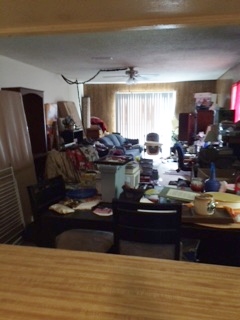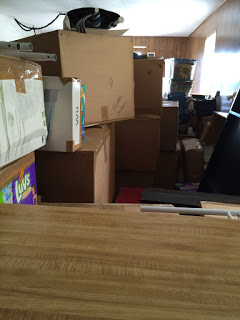 I had to check off the items as they came in… again from a vaguely labeled list. The numbers helped, but the labels are fairly useless. If I had two or more of me, I would have been unpacking as things came in. Even
so, compared to then, I think I've made progress.
~3~
I am so glad my sister's school year is over so she could play with the kids and generally keep them occupied during the delivery of the stuff. I wish she could have stayed longer.
~4~
By Wednesday evening, I had most of the kitchen complete. I also have an entire large box of things to sell and bigger boxes going to goodwill. That's only the beginning because there are many more boxes to go. I've already made $66.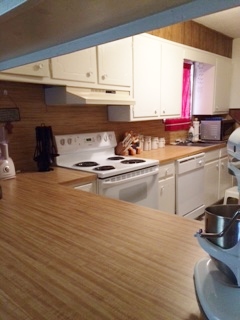 ~5~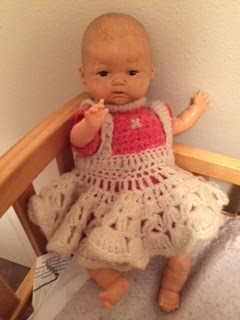 Since my husband is now an employee of CPS, he has connections to a resource room that
provides clothing and toys to kids coming into the foster care system. I'm up to five large boxes of stuff, not including gear. I even applied the purge to myself. I've been carrying around my childhood stuffed animals for far too many years. I don't need things to remember people. I did keep a few, either for sentimental or collector reasons (Pound Puppies, original Cabbage Patch, Popples, and a few others). I think a kid with NOTHING could benefit from a well-loved toy for more years to come, rather than sit in a box. I am going to let Madilynn play with the others, including Sally. My Mom said, "Granny got
tired of you taking her clothes off so she crocheted the dress so it wouldn't come off. I don't think you were much older than Madilynn is now."
~6~
I keep finding things in random places or not packed together – certainly not done as I would do them. I had a bag of 220v adapters set aside that the movers packed for me. The remotes to anything were not packed with those things (including our
Sleep Number bed
). Whatever system they were using isn't my system and it leads to a case of ADUD – Attention Deficit Unpacking Disorder. At least with all the going back and forth, I'm finally getting in 10,000 steps a day!
~7~
Speaking of random things: I found my wedding tiara in a box of toys. I crowned myself the queen of moving and unpacking. I may be wearing the crown for the rest of my work. Not that the children recognize my regal power and awesomeness, but maybe some of my loyal (and hopefully some new) readers will enjoy my royal sense of humor.