I adapted this recipe using cornstarch instead of eggs. Next time, I will probably use a little more liquid and maybe even a smaller pan for a thicker cake. Either way, it turned out great (as the ladies' Bible class will also give witness). Cake 1 yellow cake mix...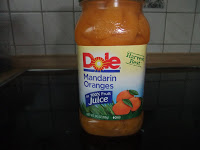 Most muffin mixes contain egg in the ingredients. Most pre-made muffins also contain egg, not to mention the "may contain trace amounts of peanut" warning. D wanted some muffins at Bible study so badly, that I decided I would have to make him some "safe" muffins. This recipe experiment...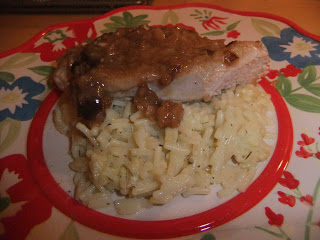 1 lb lean pork loin, trimmed 1 tbsp olive oil 1 1/4 cup water 1/2 cup onion, finely chopped (I use onion flakes, and only about 1/4 cup because we aren't big onion people) 4 ginger snaps, crushed 1 tbsp apple cider vinegar 1 tsp beef bouillon granules 1/8...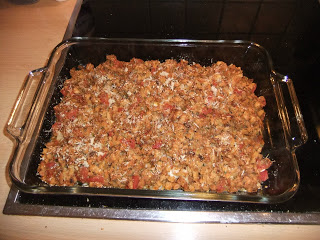 (adapted from a Stove Top recipe). The Stove Top chicken flavored stuffing is egg-free, making it an ideal substitution – at least until I brave making my own egg-free cornbread and making a variation of my grandmother's dressing (which will be nowhere near as good without the eggs…). 1 1/2...
Another adaptation of a Weight Watchers recipe. The original recipe calls for egg noodles. Obviously, I had to find something else since Dietrich is allergic to eggs. 16 oz. of low-fat turkey sausage 1 1/2 cups low fat cottage cheese 8 oz. spiral noodles 8 tsp. Parmesan Cheese 2...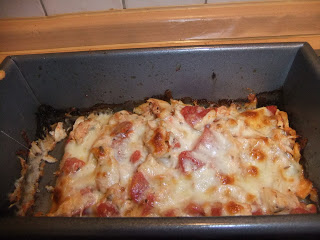 This recipe is modified from the back of the Heart Smart Bisquick box. The look and taste are like a chicken pizza. It is a recipe for two, so you would need to adjust it for your family size. 1/3 cup Heart Smart Bisquick (though I would guess any...
In C.S. Lewis' The Magician's Nephew, the Lion, Aslan, sends a young boy, Diggory, and his friend, Polly, on a mission. They find themselves hungry and without food when they set up camp for the night. Diggory and Polly discuss their need for food, not grass, with the flying horse,...
Yesterday We were supposed to be napping. Instead, Dietrich wanted to play, after all, he is three. As he played with the pillows, blanket, and my hands, I found myself staring at my reflection in his eyes. I then began to wonder how this darling child sees me. Lately,...
My grief is my own, no one else's. It is not right or wrong, nor should anyone judge me for the way I am doing it. My loss, even if we have similar experiences, is not your loss. If you don't have a similar experience you cannot definitively say...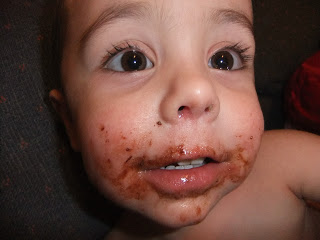 This is an adapted version of the original TollHouse recipe. You can also check out our video! 2 cups flour 2 tsp. water (for higher altitudes) 2/3 cup each white and brown sugars 1 tsp each baking soda and salt 2 sticks butter 1 tsp. vanilla 2 Tbsp. Fat...