Growing up in the Lord
Posted On July 11, 2015
Welcome family, friends, link up readers, new readers, and anyone in between. Thank you for your grace and patience in waiting for the unveiling and grand opening of my new domain and corner of the Internet. (The wait might have been easier for you than for me). Likely, I'll still have a few kinks to work out, so bear with me during this time of adjustment.
You may have noticed the new Domain is not going by "The Caswell Clan" and there are a couple of reasons for that. First of all, many of the combinations were taken already! Secondly, I wanted a name that conveyed my overall purpose in writing. I thought long and hard about this since I write about many topics ranging from only my family to faith to homeschooling to healthy living to food allergies and the list keeps going. I realized everything boils down to one driving force, which I share in many of bios when I am featured elsewhere online, and even in my Why I Write section. I am a work in progress and through writing I can share some of what I've learned along the way. I am a Christian, seeking to only follow the Bible, and grow my family in God's word.
If you've read anything else I've written, you know I like music. It shouldn't come as a surprise that these thoughts reminded me of an Acappella classic song "Growin' Up in the Lord" and I plugged that name into the domain box and it was available. While the transfer process commenced, I realized I probably needed to ask permission to use copyrighted words (oh the things Mamas think while in the shower – that could be a "whole nuther post"). I quickly messaged Keith Lancaster on Facebook and tears of joy formed as I read his reply: So glad you are calling it that!  Blessings on your ministry.
Now some of you may not be the avid lifelong fans of Acappella Ministries that I am. You many not attend worship at certain congregations in a certain place when you find out one of the former members attends there or get extremely excited when said member happens to be leading singing that Sunday. You may not plan your family vacation to attend a retreat and be extra thrilled to find out that Keith Lancaster himself will be there to lead worship. If all this is foreign to you or if you need a refresher, here are the lyrics and a link to "Growin' Up in the Lord."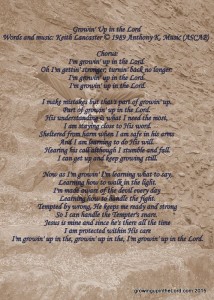 I am excited at what this new chapter may bring. I feel called to pursue this avenue in a way I am unable to explain. Writing became more than a means of keeping people updated and documenting our adventures. Writing became more than an outlet for everything that happens in a day. Writing truly became my ministry.
To those who shared in my journey from close to the beginning, thank you for sticking with me and helping me grow. To those who joined me along the way, I am blessed that you came along for the ride. To those who may be hopping on board for the first time, welcome and I hope you find a reason to stay a while.
Dig through the archives to learn a little more about me, about our family, our adventures, our struggles. Laugh with us, cry with us, learn with us. Join our journey of growing up in the Lord. Share and comment. I can be found on Twitter, Facebook, Bloglovin, Pinterest, and Google+.