Teach your children, Bravely
Posted On October 8, 2014
I am a preacher's kid and my dad is my favorite preacher. I even have a favorite sermon! As children, my siblings and I referred to it as "the parrot sermon," because of the illustration. The sermon's actual title is "Who will teach the children?" using scriptures from the book of Deuteronomy.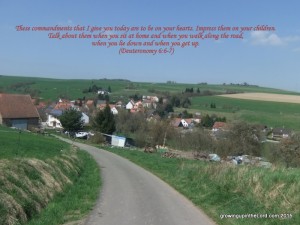 Teaching your children becomes a new challenge when you add homeschooling to everything else you do in a day. Truthfully, I feel like I'm the one doing all the learning as I figure out what works for my child, how to give attention to my toddler and assist my school kid, and re-learning things I used to know (or learning more about whatever subjects "we" are interested in on a particular day). Quite honestly, most days I fail in patience. Many days are met with some amount of resistance, including silly guessing (which is funny at the end of the day but not at the moment when a child has been trying to add 2+1 for fifteen minutes simply for silliness' sake). Some days the "school" part seems utterly pointless. On those days, I have to look at other things I'm teaching my children. My children are polite, helpful, and loving. I hope that has everything to do with the example we are setting as parents.
In my dad's sermon, he talks about the stages of faith (taken from
John Westerhoff, Will Our Children Have Faith?
). Those stages are experienced (a faith you are born into – you believe because your parents believe), affiliative faith (belonging to a community – believing because the group believes), searching faith (beginning to question "why" – typically during the adolescent/young adult years), and finally an
owned
faith (strong, personal faith, grounded in "I Know" statements). Sadly, many people never pass the second stage. Children must be taught in order to believe, but they also have to be taught how and why to believe. I teach this the only way I know: by DOING. In our current time of
transition, I've had to answer many questions with, "I don't have that answer right now, but when I do, I will tell you." Much more important,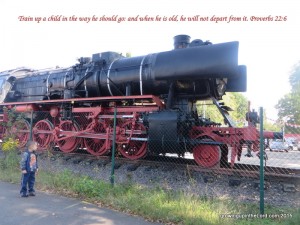 I've been able to share a deeper part of faith with my six-year-old. I don't always think he's listening or paying attention, but last weekend when talking to my dad on Skype, my boy surprised me once again. We were talking about not knowing where we would live and our stuff being sent into storage and
Dietrich said, "But God's going to point us in the right direction!"
This filled my heart with joy beyond words.
These days I'm peaceably in pieces. I KNOW God is taking and will take care of everything because He has in the past. I KNOW His plan for our lives is good and perfect (
Romans 12:1-2
) and that He gives us everything we need (
2 Peter 1:3-4
). At least this week, it seems I'm communicating that knowledge adequately.