A new and different kind of Joy.
Posted On April 5, 2016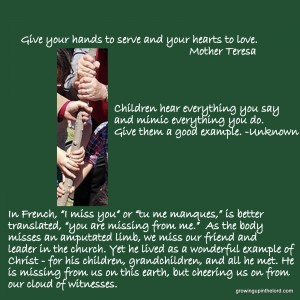 Our congregation planted a tree in honor of our elder. The children of the church helped pile the dirt over the roots. The grandchildren of our elder watered the soil and (with assistance) lowered the tree into the hole. This was an emotional few minutes. My sweet Madilynn (who I don't take my eyes off of in moments like these) continued kicking the dirt during the prayer – which resulted in my laughing and crying at the same time. I think our elder would have laughed too. Dietrich, on the other hand, had to be encouraged to put his hands in the dirt. Since the grandchildren were helping with the tree, their mom – the elder's daughter – was taking pictures of this special moment. I was near enough to notice this left the elder's wife standing alone. I went to her, knowing I would want someone to do the same if one of my parents or grandparents had to stand alone. She is an amazingly strong lady, as much a woman of God as her husband was a man of God. Her first concern is her children and grandchildren.
The tree is a Chinese Pistache, known to withstand drought and high winds (an important characteristic for any plant to have in West Texas). The span of this tree can reach 30 feet in height and its branches and leaves provide shade in a radius of 30 feet, offering relief during the hot summer day. As Christians, we must grow in such a way that we withstand the drought and intolerable conditions around us. We must provide relief and protection to those seeking comfort and peace. We offer love and grace when we spread our branches and share the Gospel.
Our congregation is different without his presence, but his joy is now complete. We face a new emptiness without him, but honor him by sharing Jesus as he did – spreading our branches and helping those in need.
Well done, good and faithful servant. Enter into the joy of your master.