All Because of a Hairclip
Posted On February 20, 2020
I continue to be amazed at the way God uses small things to make a big impact. A very personal example for me is how God wove two amazing friends into my life with a hair clip.
The purpose of my blog is not to sell hair clips, so I don't talk about my "side hustle" often. The purpose of my blog has changed over the last 12 years. It started as a private link only for the family so I could share news while Peter was deployed, especially with those family members who were not on Facebook. Later, it became a space for me to write and share what we were going through and learning, in hopes of helping someone else. Now, it's that but more intentional. People long for genuine connection. Everyone has a story to share. Yet many people don't find the connection they crave and they don't believe in the power of their story.
Almost five years ago, we moved to this town. For about six months before we moved, we lived in a transitional state. I am grateful we had our family to stay with during that time. If I am completely honest, those six months probably hold the record for my disconnect and depression. I wasn't plugged in with a church family. We didn't have any friends close by. We weren't part of a homeschool group. In simple terms, I was craving connection. I had my friends that I could talk to through social media, but that wasn't enough.
Before we moved, I'd already sought out a new church home. Some of our friends from Germany actually grew up here and his dad was an elder. We had a connection before we ever walked in the doors. He made sure we met everyone. It also happened to be potluck Sunday. We quickly and easily bonded with the preacher and his wife, because he was retired Air Force. We had places and experiences in common. We both homeschooled our children. Basically, I found my new best friend, Sherril.
When we were settled, I started looking for local vendor opportunities. Another homeschool mom told me about one, and I jumped at it. That event was on August 22, 2015. My new best friend walked in with her best friend, Christy, who was there on a covert mission to spy on a new team member. Later that day, after I was settled at home, I had a friend request from her. A few days later, on September 7, we began our Facebook Conversation. I feel sorry for anyone if they ever try to follow our conversations, which tend to cover several topics at once. She talked to me about her business. I had already noticed my friend's amazing GIANT hair clip that was securely holding a massive amount of hair all by itself. I was able to borrow some and fell in love. I had never had anything work so well in my hair! I agreed to host a party with the intention of signing up afterward.
On October 15, I became a consultant. What I didn't know, is I'd found my other new best friend, a heartmate. On November 14, I met her middle daughter (Aranza, then 12), who actually did my training because my new friend had to get pointe shoes for her oldest daughter, Ella. Aranza always asked how my business was going, often volunteered to help me if I needed it when I first started, and offered amazing encouragement beyond her years. I watched these young ladies grow over the next four years, witnessed the way they touched the lives of those around them. I grew to love them dearly, as an extension of my family.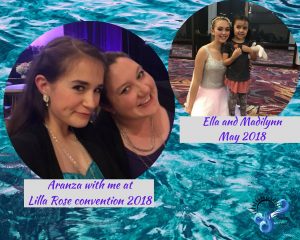 On August 7, 2019, I received a voicemail from my dear friend, the mother of these girls, and at that moment, all of our lives changed. One moment the girls were riding home after worship, the next they were hit head-on by someone driving the wrong way on a divided highway. Everything changed in an instant. We are not the same people we were on the morning of August 7. We look the same on the outside, but our hearts are broken. We don't see the world the same way. We have greater anxiety about the safety of our children.
In the weeks following, I witnessed thousands of people reaching out to my friend. Some offered condolences and favorite memories. Some offered food. Some donated money for the two funerals and medical expenses for the surviving daughter. Many of these people, like me, met my friend because of a hair clip. Small things have a great impact. Two teenage girls made ripples that created waves that continue to swell.