Lessons from The Muppet Movie
Posted On August 18, 2015
Being a child of the Eighties, I grew up with Sesame Street (I believe older episodes were better). Jim Henson's Muppets made the show, in my opinion. Kermit the Frog was among my favorite characters. The Muppet Movie (the original) remains my favorite of all Muppet movies. I'm surprised that I didn't wear out my VHS copy and somehow my DVD remains in good shape, surviving military moves and a broken DVD player or two. Jim Henson had a gift for teaching through his characters. These are just a few of the lessons I've learned and are reinforced by some of my favorite "people." If you'd like to watch this post, you can see my video for Best Friends Day here.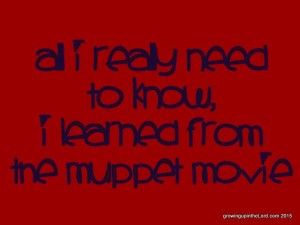 Leaving the familiar might be scary, but the adventure and friends you make in your journey create a full life. Kermit was hesitant to leave the swamp, but the thought of realizing his dream and making "millions of people happy" led him on an adventure that changed his life.

Most people we meet are good. When you do meet opposition, getting through the obstacles is easier when you have a support system of friends.

These friends can come in all shapes, colors, sizes, and levels of "weirdo." True friends will help you outrun the bad guy, provide you with a clever disguise, catch you when you fall, make you laugh and sing, and stand up with you when you face the enemy. Every once in a while, your life may be blessed with "old friends who just met."
Kermit became the leader of a group of friends he never expected. Everyone looked to him for answers and guidance. You never know when you may be the de facto leader or who is learning from your example.

Opposites attract. While current news reports a final break-up of Kermit and Piggy, their love story is a common thread through all the movies. Couples shouldn't be 100% alike (the same species is good though) because it is in our differences that we learn new things and grow in maturity.

"Patriotism swells in the heart of the American bear." About half-way through the movie, we see beautiful scenes of America as Fozzie sings "America the Beautiful." This is my MOST favorite part of the movie. As a side note, and history lesson for those who don't know, the song "America the Beautiful" was written by Katharine Lee Bates after a coach ride from Pikes Peak in Colorado.
Whether driving cross-country, working, or just hanging out, a song makes everything better. "Getting there is half the fun" of any pursuit. Enjoy the trip!

When you set goals for yourself, you've made a promise. Falling short, breaking that promise hurts you more than those around you.

When you share your dream with others and you all work toward the same goal, you are connected. The more people who share the dream, the better the success. Kermit and his friends found Joy in working toward a goal but they also became a "kind of family."

"Life's like a movie write your own ending." No one can tell you when your movie is over – you get to decide. If you don't like the direction of the script, make your own plot twist!