Too much of "religion" these days focuses on how a person "feels" and on the "worship experience" rather than Teaching the Truth. If the people in attendance experience entertainment, give generously, serve wholeheartedly, even love unconditionally, but leave the assembly with a dull sword and tattered armor, is that...
Today is Veteran's Day. Nine years ago, this day held much less significance in my life. Then, everything changed. Eight and a half years ago, I married a soldier. By Veteran's Day 2007, we faced our first deployment while I was pregnant with Dietrich. We realized the value of...
One Year Ago we returned stateside. Five Months Ago we received our household goods, not quite in the condition we expected. A month and half ago, the JAG office approved our damage claim, though the claim check took a little over a month to get to us. The replacement...
Today is "Face Your Fears Day." Many things I have overcome, attacking at full force, initially have little to do with choice. Like Rafiki in the Lion King said, "You can either run from it or learn from it." I suppose a third choice is standing still, letting life...
Ten Things That Surprised Me about Our Transitional Life This list will include items from our transition from living in Germany and returning to the states in addition to leaving the military culture. Though I married into the military, leaving it and getting used to civilian life again has...
Though I am catching up and I did more writing this week, I'm still feeling incredibly behind. Maybe that is the definition of life as a mom. Without further stalling, here are this week's Seven Quick Takes. ~1~ Dietrich participated in a summer reading program at church. Though we...
On this day, eight years ago, I woke to Peter's phone call saying he had been bumped from his flight (the Army wouldn't let him off early the day before to get to his own wedding). He made it, just in time – though I guess we would have...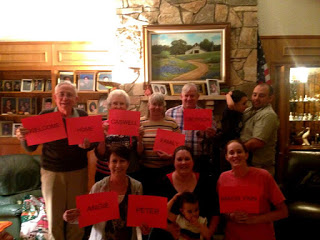 If you are new here and joining from a link up, welcome. This post is a bit of a review and will contain several link backs to previous posts to get you caught up (or remind you if you've been here but forgotten the details). Thanks for stopping by today!...
Today shoulda been moving day. However, we aren't completely through with the military yet. In the past eight years, we have experienced a fair share of challenges at the hands of the military-bureaucratic system. Moving hasn't ever been simple, except that we didn't have to pack or load/unload the...
I fell behind on my Daily Bible Reading during my running away and took a little while to catch up (especially after an urgent care visit for D's asthma). Truthfully, the daunting task of catching up seemed overwhelming when my stopping point in the Psalm-a-day portion of my reading landed on the longest...