I am an
intelligent person
. I have a master's degree and enjoy learning new things. When I want to know more about something,
I research
that topic. When my 7-year-old son asks questions, we look for the answers together (one of the perks of homeschool). However,
I am not the most up-to-date mama on the block
when it comes to current events. In January 2009, my
husband returned
from his first tour of duty in Iraq – a 15-month long deployment. He returned in time to watch the first State of the Union address by the newly elected president. We already knew he would be deployed again in the course of a year. As I nursed our infant son, we heard the president lie to the world, saying all troops would be home by the following August. I have tuned in to hear him speak less than a handful of times since.
As a military spouse, I did not watch much war coverage. I kept myself in a bit of a news bubble, focusing mostly on fluff pieces when I did read the news and trusting the Unit and my husband to tell me the important things I needed to know. I lived the Army wife life for almost eight years. I still refuse to be lied to, even through television, especially by those in positions of leadership. However, I realize going into a new election season I might need to become a little more adept in learning about current events.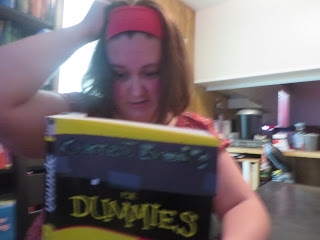 Though I am a conservative, I know better than to get all my news from any one source, with any one point of view. While living in Europe, I would often read the BBC or Irish news because they did not have the slant of American news writers. The news simply read as it happened without propaganda. I enjoyed talking to the few local nationals with whom I had relationships in the community. Hearing about how our countries and economies are connected and how each leader impacts world events fascinated me. Those are not the stories you see and hear when you turn on the news.
While living in Europe, we were saddened with the news of more shootings stateside. Things like that are much rarer in Germany. Children play alone on the playground, walk from the bus stop to their home or even go to the bakery by themselves!
I felt completely safe in our village
, but the closest I ever came to
"living like a German"
was letting our son ride his bike in front of our house while I checked on him very often from the balcony.
Often when I do break out of my bubble and read news, I end up thinking to myself, "The world's gone crazy!" Things that used to be hidden are not only accepted but celebrated. Celebrities can do almost anything, whether good or bad, and everyone cheers. Violence continues at alarming rates, and everyone has someone to blame. No one seems willing to examine their own heart first before throwing around words like "bigot" and accusing whichever system is the easiest target.
All the while social media explodes with quotes such as, "Racism/hate is learned behavior." While I agree, I also know nothing changes just because we post a quote.
We have to actively teach the next generation while monitoring our own attitudes
. I can be a conservative Christian and love a person, even if I don't agree with their choices. I am white, but I do not base my opinion of others on the color of their skin. In fact, I'm likely not to notice unless they bring it up and use it as a shield or crutch.
I enjoy hearing other people tell their story. That's part of why I became a social worker. I have a license to be nosey!
I may not be the most up-to-date mom on the block, but I am a very willing to learn mom. I am willing to set aside past prejudices and search for facts, even if they are contrary to my own opinions, even though that hurts sometimes. I will never compromise the truth, but I will always listen to and look at every side of a story before forming an opinion. Will you join me in my efforts to seek truth in this crazy world?
Originally published at bluskycollective.wordpress.com on 6/30/2015