When I graduate… When I get married… When I have kids… After the kids grow up… If you keep waiting for the "perfect time," you will miss all life has to offer. The truth: All we have is right now, making NOW the perfect time. A wise muppet once...
Though the first day of the week is Sunday, many people "start" the week with Monday. Monday is the first day of the school/work week for most people. For me, Monday is the day I set my goals for the week, including household tasks, menu, and business activities. While...
Earlier this week, I did a video with all things I've been thinking through the most recent upheaval in the country (embedded at the end of this post). This is a written and expanded version. I believe most people are good and kind, or at the very least "live...
How has your life changed in the last few months? I asked this question one day on Facebook and received a myriad of answers. This one post generated more interaction than any other status post I've shared (other than pictures or videos). While the specifics varied, the answers held...
While running errands, I listen to the radio in the car. For several months, this usually results in a puddle of tears. A specific handful of songs trigger the grief. This week, it wasn't a song, but the D.J. talking that caused a wave of emotion. They were talking...
A tiny virus disrupted everyday life. The world shut down. "Stay at home" or "shelter in place" orders went into effect overnight. Some businesses received the designation of "essential" while others received the brush-off. Each day seemed to add a new tenant to a really bad dream, but we...
Most moms I know often feel like they are drowning in chaos. Managing the household tasks, managing kids' activities, attempting to balance more things than we can carry. Mamas, we are uniquely made for our job, but we allow the Enemy to convince us otherwise.  Square pegs and round...
I've been teaching Esther in our young ladies' Bible class. My favorite thing about teaching is how much I learn in the process. The past few weeks have been no exception. If you aren't familiar with this short book of the Bible, it is an easy read. This historical...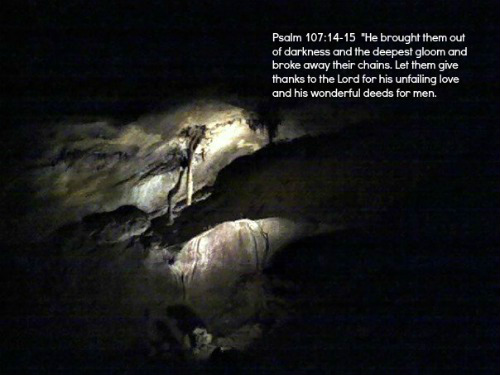 Have you ever visited any of the caves or caverns? When we lived in Colorado, we toured Cave of the Winds. During one part of the tour, they turn off all the lights. Due to the depth of the cave, you are surrounded by pitch-black darkness. You cannot see...