Sunshine and Rainbows
Posted On April 18, 2015
This month's blog hop post originally went a different direction in my head. Initially in thinking about rising above, being able to overcome and persevere, the passage of Romans 8:31-39 ran over and over through my mind.
What, then, shall we say in response to these things? If God is for us, who can be against us? He who did not spare his own Son, but gave him up for us all—how will he not also, along with him, graciously give us all things? Who will bring any charge against those whom God has chosen? It is God who justifies. Who then is the one who condemns? No one. Christ Jesus who died—more than that, who was raised to life—is at the right hand of God and is also interceding for us.  Who shall separate us from the love of Christ? Shall trouble or hardship or persecution or famine or nakedness or danger or sword? As it is written: "For your sake we face death all day long; we are considered as sheep to be slaughtered." No, in all these things we are more than conquerors through him who loved us. For I am convinced that neither death nor life, neither angels nor demons, neither the present nor the future, nor any powers, neither height nor depth, nor anything else in all creation, will be able to separate us from the love of God that is in Christ Jesus our Lord.
Life is full of challenges and our attitude in approaching those trials makes all the difference in whether we see positive or negative outcomes. Maybe more accurately, whether or not we see more good or bad from the experience. During the storm, sometimes we see only the clouds. We're blinded by the darkness. When the lightning does flash, we're further terrified by the shadows, unable to see any hope of clear skies ahead. However, when the storm breaks and the sun comes out, we, too, are renewed. Sometimes, storms leave damage, but often that damage is repairable – though not forgotten.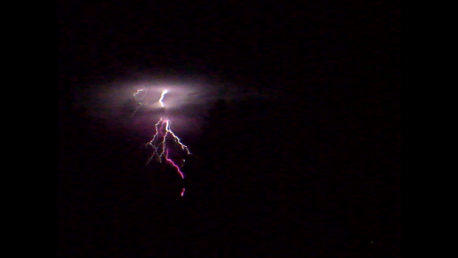 If you've read many of my posts, you know that I often refer to Dietrich as
my Sonshine
(spelled this incorrect way on purpose). He is the bright spot in the darkness – through deployments and through our
miscarriage
. A few months ago, I learned a new term: Rainbow Baby. A rainbow baby is baby born after a loss. Madilynn is a vibrant rainbow. She has many colors to her emerging personality. Her energy dazzles and bedazzles me. I can only imagine how she is going to use this radiance as she grows older.
Dear readers, you may be thinking I've wondered from my "more than conquerors" verse. I'm sure I don't blame you for that. You see, the biggest, the most difficult experience I've had to overcome is the loss of my unborn child. I never heard or saw the heartbeat and we never knew the gender. If that baby had been carried to term, we'd be celebrating a 3rd birthday sometime during the first week of May. I adore Madilynn, and wouldn't trade her for anything. You see, "the beauty of a rainbow does not negate the ravages of the storm. When a rainbow appears, it doesn't mean the storm never happened or that the family is not still dealing with its aftermath. What it means is that something beautiful and full of light has appeared in the midst of the darkness and clouds. Storm clouds may still hover but the rainbow provides a counterbalance of color, energy and hope." (source unknown)
So it is with any of life's storms. Loss or addiction, illness or adversity – when the rainbow or sunshine appears, beauty can be seen as one focuses energy and hope on a better future rather than the turbulent past.