Not Really Moving Day…
Posted On May 22, 2015
Today shoulda been moving day. However, we aren't completely through with the military yet.
In the past eight years, we have experienced a fair share of challenges at the hands of the military-bureaucratic system. Moving hasn't ever been simple, except that we didn't have to pack or load/unload the truck. This move is proving to be the least simple by far. Since we left Germany without a "home" destination in mind (no new job, due to military separation), we qualified for military storage for up to six months. We never expected to exceed that time frame. We also did not realize that when that six months ended, our shipment entitlement (the military funded move) also expired. When I called to release our goods, settle the account, and tell them our moving date, I received that bit of news. Fortunately, their business manager quickly offered the information about getting a shipment entitlement extension. The difficulty came in tracking down a transportation office so I could find out how to do that. About five phone calls to three military installations later (I left messages, but really wasn't interested in the "hurry up and wait" game), I talked to a real person who provided me with the "how to" and an e-mail address to expedite our request. Any military families that might read this and need to know: you need a letter requesting the extension, current orders, the reason the extension is needed, and any supporting documentation – all signed by the military person. I gathered, scanned, requested, and wrote all the necessary paperwork and emailed it on May 6. Two days later, we received our extension and I sent that to the storage facility to release our goods. Because we did go over the six months, we had to pay for half of the month before our goods would be released. I paid that immediately and received confirmation. However, at the beginning of this week, I received an email saying our goods were scheduled for release from their facility on May 19 and the estimated date of arrival at the local contractor is JUNE 1. I read the gobble-de-gook military speak through several times. What it amounts to is our goods cannot be sent directly to us though we are no longer military. They must go to a military installation and "clear" a transportation office, then go to the local moving company, who then brings them to our new home (something else not made known to us). Even with all those stops, I'm not sure it takes two weeks to get from VA to TX unless you hit every single state in the Union on the way… or drive really slowly.
Instead, today is partially moving Peter into the apartment day. He will have an air mattress and a new to us washer and dryer.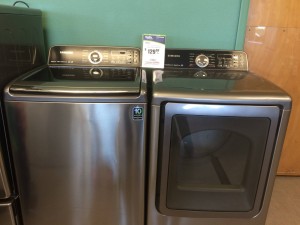 The internet is getting hooked up today, so he can continue with his online classes and stay in touch with his Lovely Family. We can make a couple of trips over the next week or two to move all the stuff that has accumulated and visit Daddy. I'm slowly getting over the disappointment and trying to be positive. At least Peter will no longer be living out of a hotel and he can start to feel connected in our new hometown. We are, after all, very blessed with an amazing support system. If we didn't have that, this whole thing would be so much more difficult to handle.
Update: If you have to get an extension, you will want to call DPS to make sure the information is updated in their system to make filing a claim easier. I didn't know to do this and filing our claim involved more hoops as a result.