Lose the Cape: A book Review
Posted On January 29, 2016
I am judgmental.
I am opinionated.
I do not often keep those opinions a secret.
The stronger I feel, the louder the opinion will be spoken.
And then… I had kids…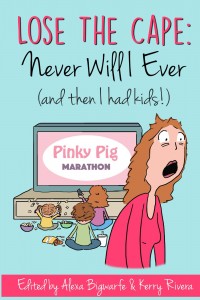 I received a free advance digital copy of Lose the Cape: Never will I Ever (and then I had kids) to write a non-biased review. The moms in this anthology are moms like me, like you, the every mom. At some point, we all eat our words (eh, as long as someone in this house is eating something, right?). Ranging from funny to serious stories, this book highlights the moments when "never" becomes "now" and even "always." Motherhood changes us, broadens our perspective, and enhances the vision of our point of view. Most importantly, motherhood unites us in our struggles and our victories. This book is a clear reminder that we are not alone.
I still have strong opinions, but I try to be more diplomatic and tactful. I limit my audience and consider the ears around me before I speak… most of the time. I still make quick assessments, but I have learned to listen to the whole story or investigate to find truth, rather than stewing in my judgments.
I know a couple of the contributors through different blog groups. I call them Bloggy Buddies (because I'm a little bit nerdy). I enjoy reading anything these women write – we have a bit of a mutual admiration society. Seeing their names in a book was such a joy!
Here are a few of my favorite quotes, small snippets to intrigue you.
"They say curiosity killed the cat, but cats have nine lives, and it is in curiosity do we approach things with a desire to find out as opposed to a desire to prove something true or false."

"I've learned that it isn't the perfect house that makes a home. Our home is what it is because of the love that made it all happen in the first place."

"[O]nce those precious little pieces of our hearts come along, their very existence challenges the notions we once had."
For more context to these bits and more stories, go buy the book!
This post may be linked up on other blogs.
Follow me at Follow