Lessons from Deuteronomy
Posted On March 26, 2015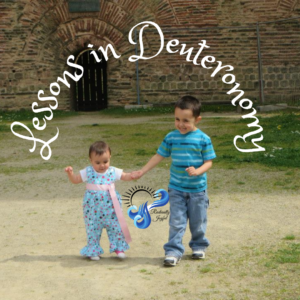 The Old Testament. The beginning of time. The fall of man. The flood. The establishment of a promise. Journeys into and out of slavery. The presentation of the Law. Miracles and wonders.
The accounts of the first five books of the Bible are rich with history important to all Christians. (I admit, it is hard to get through parts of Numbers and Leviticus). In Galatians 3:24, we read, "So then, the law was our guardian until Christ came, in order that we might be justified by faith." We often want to "skip over" large portions of the Old Testament, yet these Scriptures were the only ones the first Christians knew!
As much as I enjoy the classic well-known events of Genesis, I found myself captivated by the summary of Deuteronomy. Deuteronomy's 34 chapters detail over forty years of Israelite history. Moses is talking to the whole company of Israel for the entirety of the book. I want to quickly – okay, in four sections – give my summary of Moses's summary.
Love God and teach His ways to your children.
Hear, O Israel: The

Lord

 our God, the 

Lord

is one. 
Love the 

Lord

your God with all your heart and with all your soul and with all your strength.
 These commandments that I give you today are to be on your hearts.
 Impress them on your children. Talk about them when you sit at home and when you walk along the road, when you lie down, and when you get up.
 Tie them as symbols on your hands and bind them on your foreheads.
 Write them on the doorframes of your houses and on your gates.
Consequences are not always because of our own actions, but the actions of others.
It is not because of your righteousness or your integrity that you are going in to take possession of their land; but on account of the wickedness of these nations, the LORD your God will drive them out before you, to accomplish what he swore to your fathers, to Abraham, Isaac, and Jacob. Understand, then, that it is not because of your righteousness that the LORD your GOD is giving you this good land to possess, for you are a stiff-necked people.
Deuteronomy 9:5-6
God's request is simple and for our benefit. 
And now, O Israel, what does the LORD your God ask of you but to fear the LORD your God, to walk in all his ways, to love him, to serve the LORD your God with all your heart and with all your soul, and to observe the LORD's commands and decrees that I am giving you today for you own good?
Deuteronomy 10: 12-13
God gives us a choice. He wants us to choose life.
See, I set before you today life and prosperity, death and destruction. For I command you today to love the Lord your God, to walk in obedience to him, and to keep his commands, decrees, and laws; then you will live and increase, and the Lord your God will bless you in the land you are entering to possess. But if your heart turns away and you are not obedient, and if you are drawn away to bow down to other gods and worship them, I declare to you this day that you will certainly be destroyed. You will not live long in the land you are crossing the Jordan to enter and possess. This day I call the heavens and the earth as witnesses against you that I have set before you life and death, blessings and curses. Now choose life, so that you and your children may live and that you may love the Lord your God, listen to his voice, and hold fast to him. For the Lord is your life, and he will give you many years in the land he swore to give to your fathers, Abraham, Isaac, and Jacob.
Deuteronomy 30:15-20