10 years of Growing up in the Lord
Posted On September 1, 2015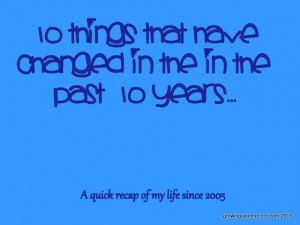 I did not have a Facebook account yet. Facebook opened to the general public in September 2006, and I joined (to keep up with my still in college/grad school friends and family). To be fair, I didn't blog much back then either.
I had a "real" job, with a salary, insurance, and 401K. I worked as a case manager at a children's home for two years. I loved those kids and still think of them often.
Did I mention I was single during this time? I did not get married until 2007. During those years of singleness, some days were difficult but other times were truly blessed. Choosing to wait until marriage and being finicky about whom is marriage worthy caused a great deal of loneliness at times.
Freedom and "extra" income. I used part of my vacation time each year to go to the City of Children in Ensenada for a one-week mission trip. I helped make and pour concrete the first year. The next year, we built outhouses for some of the church members in one of the communities outside of the children's home. Another time, we worked on an actual house for some of the families. These times were a blessing to me even as we blessed others.
I married in July 2007. I became an Army wife and moved from Texas to Colorado.
Our first child was born in June 2008. Boy, did that change our lives!
Our first and only Permanent Change of Station move was from Colorado to Germany. Living in Europe absolutely changed our lives. We were blessed with adventures and opportunities we otherwise may not have experienced.
Until October 2011, I would have told anyone who asked that my life had been blessed and without any major tragedy or traumatic event. Then, I had a miscarriage, an event that changes life forever.
A year later, we welcomed our strong-willed girl into the world. As much as our boy increased the joy in our lives, our girl completed our family.
We ended our time with the military, returned to Texas, spent months in "limbo" and finally found a place to put our home.