My children think I can do anything. I fix all broken things, beat Koopa and save the princess (again), find every missing item, answer endless questions, and make them all the food they could ever want (even the meals they don't eat). My husband thinks I'm awesome, even on...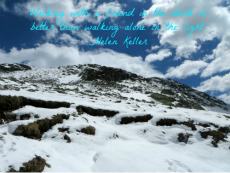 In middle school, a friend gave me a decorative banner with the quote, "Some people come into our lives and quickly go. Others stay a while leaving footprints on our hearts and we are never the same," by Flavia Weedn. This sentiment stuck with me through many moves as...
This book is only four short chapters, but rich in content. The account of Ruth takes place during the time of the Judges. For the purpose of my book review, I'm going to break the sections down into seasons and go from there. Winter – Israel faces famine. Naomi's...