In C.S. Lewis' The Magician's Nephew, the Lion, Aslan, sends a young boy, Diggory and his friend, Polly, on a mission. They find themselves hungry and without food when they set up camp for the night. Diggory and Polly discuss their need for food, not grass, with the flying horse, Fledge, that is carrying them through and beyond Narnia. "Wouldn't he know without being asked?' said Polly. 'I've no doubt he would,' said the Horse (still with his mouth full). 'But I've a sort of an idea he likes to be asked."
Our Creator is not much different. Our Father in Heaven knows our needs before we ask (Matthew 6:8). Not only does He know our needs, His Spirit guides us and intercedes for us when we don't know how to pray (Romans 8:26-28). How, then, can we expect something if we don't first ask for it, then seek God's will for our lives?
I do not know how all my prayers will be answered. I trust that God has a great plan for my life, that He loves me enough to send His Son as an atoning sacrifice for my sin than His love is not conditional. I take refuge in the words God spoke to the prophet Jeremiah: "For I know the plans I have for you," declares the LORD, "plans to prosper you and not to harm you, plans to give you hope and a future.  Then you will call upon me and come and pray to me, and I will listen to you.  You will seek me and find me when you seek me with all your heart." (Jeremiah 29:11-13).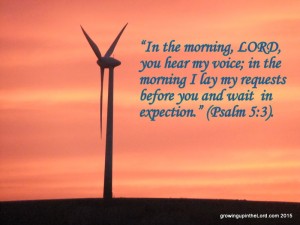 We serve a Creator that loves us so much, He is waiting to hear from us. "Know that the LORD has set apart his faithful servant for himself; the LORD hears when I call to him." (Psalm 4:3). God doesn't merely want us to pray, He is waiting to listen.
Every time I read a passage that reflects this, I am both awed and humbled. He knows my every thought, every step, every need – before I do. He provides for, shelters, guides, and values ME! I have no reason to worry or fear  because God takes care of everything (see Matthew 6:25-33, Proverbs 5:21). The God of the universe WANTS to hear from ME! As Junior Asparagus of Veggie Tales would say, "God is the biggest and He's on MY team!"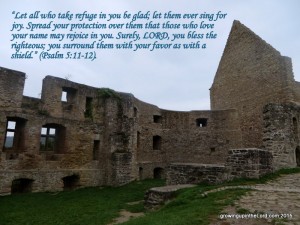 The Psalmist writes "KNOW" – he is certain. We don't have to "suppose" or "guess" that it is so. The Psalmist is confident that his prayers will be fulfilled, using active rather than passive verbs. Jesus also taught to pray expectantly, by saying, "Ask and it will be given to you; seek and you will find; knock and the door will be opened to you. For everyone who asks receives; the one who seeks finds; and to the one who knocks, the door will be opened." (Matthew 7:7-8). Like Aslan, Our Creator "likes to be asked" but He also longs to bless us and gather us to Him, but we have to be willing and accepting of His grace and gift of salvation.
This post may be linked up around the blogosphere.
Follow me at Follow