Unleash Your Power to Inspire
Posted On May 21, 2015
In August 2007 as new Army wife, I moved from Texas to Colorado. I left behind my family, friends, work, and church family to be with my husband. He knew the importance of friendship in my life, and he made the hour drive every Sunday to the town where my best friend lived and worshiped, so I wouldn't be alone (we knew a deployment would be imminent in the near future). That first Sunday, we met many people that helped us through that first year and a half. Two couples invited us out to lunch, one of whom was Steve and Cindy Hurt.
Today, like every third Thursday, I link up with Hearts at Home. This month, Jill encourages us to Unleash our Power to Inspire. Cindy Hurt has been an inspiration and example of a Christian homemaker since that first outing. She offered resources for working from home. She became a wealth of information and experience when Dietrich's allergies were diagnosed, having gone through food issues with her youngest child. She provided encouragement and insight when we started homeschooling. Until 18 months ago, Cindy was a stay at home mom and full-time keeper at home. Suddenly, her husband Steve became unexplainably ill. After many months of tests and ruling out one thing after another, they finally received a diagnosis: Lyme Disease. However, this diagnosis came after most of their emergency savings and retirement accounts had been drained. Cindy is Steve's full-time caregiver. They have three daughters. One married and a brand new college graduate. One is an artist. The youngest will be a high school senior in the fall. Cindy has returned to work full time. She is able to work from home and found a job that offers the flexibility necessary to take care of her family first. She has a positive attitude about all of it, saying it's about keeping balance and priorities.
In talking to Cindy, I continue to learn and be inspired. She says, "We all choose to do what we do… we may feel like it's out of our control, but really it isn't." Some things in this life truly are out of our control, like the onset of an illness and the appeals process with long-term disability. In so many other areas, as Cindy said, we choose the outcome based on our priorities. In school, if we choose to spend more time hanging out with friends and less time on our final paper, our grade may be lower than if we had first spent the necessary time and research on the paper then celebrated with friends. In the workplace, if we choose to come in late and leave early, we may see a smaller paycheck and reprimand, if not a loss of employment.
Even though she is going through this big difficult thing, Cindy took the time to encourage me and offer me additional resources when I talked to her about my goals for working from home part time after our move. She cheered me on in my writing goals saying, "My motto is that it all adds up over time, Just keep building your portfolio and someday it will land you that opportunity." In my attempts to offer encouragement, I come away encouraged. She's going through this Really Big Thing that makes our big thing seem so very small.
Hearts at Home readers, Cindy and her family have been a source of inspiration to many others – not only me and my family. They are now in need of some inspiration and support. Even though Steve paid into long term disability insurance and social security, both of those resources have denied his initial claim for benefits. They are now going through the appeals process, which can take at least nine months before a decision is anticipated. Cindy's return to work slows the drain on their emergency funds, but far from covers their day to day needs, but there are many medical costs associated with Steve's illness (even with insurance, these costs are around $1,000 a month). This family has done so much for the Kingdom, in big ways and small ways, usually quietly and behind the scenes. Will you help me help my friends? I urge you to go to
Steve's YouCaring Page
(where you can also read the full story of his illness, diagnosis, and treatment), then donate and share. No gift is too small. If all of our Facebook followers and readers donate even one dollar and tell at least one person to do the same, their goal will be met today. Some final thoughts from Cindy, that speak to her faith in God's promises and the source of her own inspiration: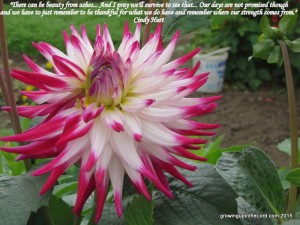 Therefore encourage one another and build each other up, just as in fact you are doing. Now we ask you, brothers and sisters, to acknowledge those who work hard among you, who care for you in the Lord and who admonish you. Hold them in the highest regard in love because of their work. Live in peace with each other. And we urge you, brothers and sisters, warn those who are idle and disruptive, encourage the disheartened, help the weak, be patient with everyone. Make sure that nobody pays back wrong for wrong, but always strive to do what is good for each other and for everyone else. Rejoice always, pray continually, give thanks in all circumstances; for this is God's will for you in Christ Jesus. (I Thessalonians 5:11-18).
I often connect with other people around the internet.
Follow me at Follow