The Most Important Freedom
Posted On July 4, 2023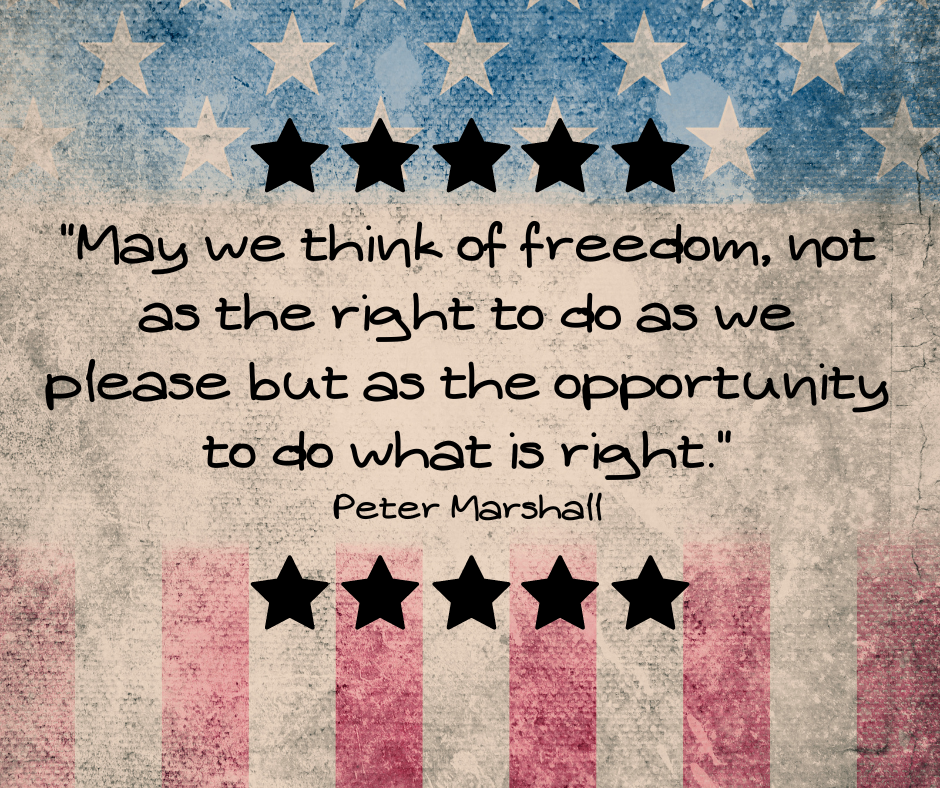 All over the world, Americans celebrate freedom on the fourth of July. Cookouts, picnics, and fireworks with family and friends make the day festive. Yet the day is so much more than Hot Dogs and Fireworks.
On July 2, 1776, Congress (then consisting of 13 colonies), declared their independence from Great Brittian. One month later, every representative signed it and sent it to King George. The rest, as they say, is history.
As much as I enjoy the blessing of American citizenship and service, there is a more important freedom to celebrate every day.
As a Christian, my citizenship is in Heaven and my allegiance is first to God, then to the rulers of this earth. The Old Testament gives us the Law and Prophets to guide us, teaching us morality. The New Testament shows us that we are free from sin when we accept Christ as our Savior. The apostle Paul writes often about our freedom in Christ. Jesus told the Pharisees that they could not be freed because they refused to believe. We all have a choice to be a slave to the world or to be free in Christ.
To a non-believer, the Christian lifestyle looks like a form of enslavement. Rules of "don't do…." seem limiting and close-minded. However, living a moral life, guided by Scripture does not make one's life more difficult. C.S. Lewis stated, "Christianity, if false, is of no importance, and if true, of infinite importance. The only thing it cannot be is moderately important." The Word of God cannot be ambiguous. God's word remains true no matter what is going on in the world. Albert Camus said, "I would rather live my life as if there is a God and die to find out there isn't, than live as if there isn't and to die to find out that there is." Living a godly life doesn't tie you down, rather, it allows you to soar!
Neither of these quotes means the Christian is free from wrestling with doubts. The God we serve is able to handle our questions and He provides the answers through His Word. Galatians 5 opens with "It is for freedom that we have been set free!" Paul goes on to tell the church that God saved them from their sinful lifestyle and freed them from the Law of Moses. Then he gives a list of things, "against such there is no law." The Christian life cultivates the fruit of the Spirit!
But the fruit of the Spirit is love, joy, peace, patience, kindness, goodness, faithfulness, gentleness, self-control; against such things there is no law. And those who belong to Christ Jesus have crucified the flesh with its passions and desires. If we live by the Spirit, let us also keep in step with the Spirit.

Galatians 5:22-25
As you celebrate Independence Day, don't forget the most important freedom!