Overcoming Procrastination
Posted On January 8, 2023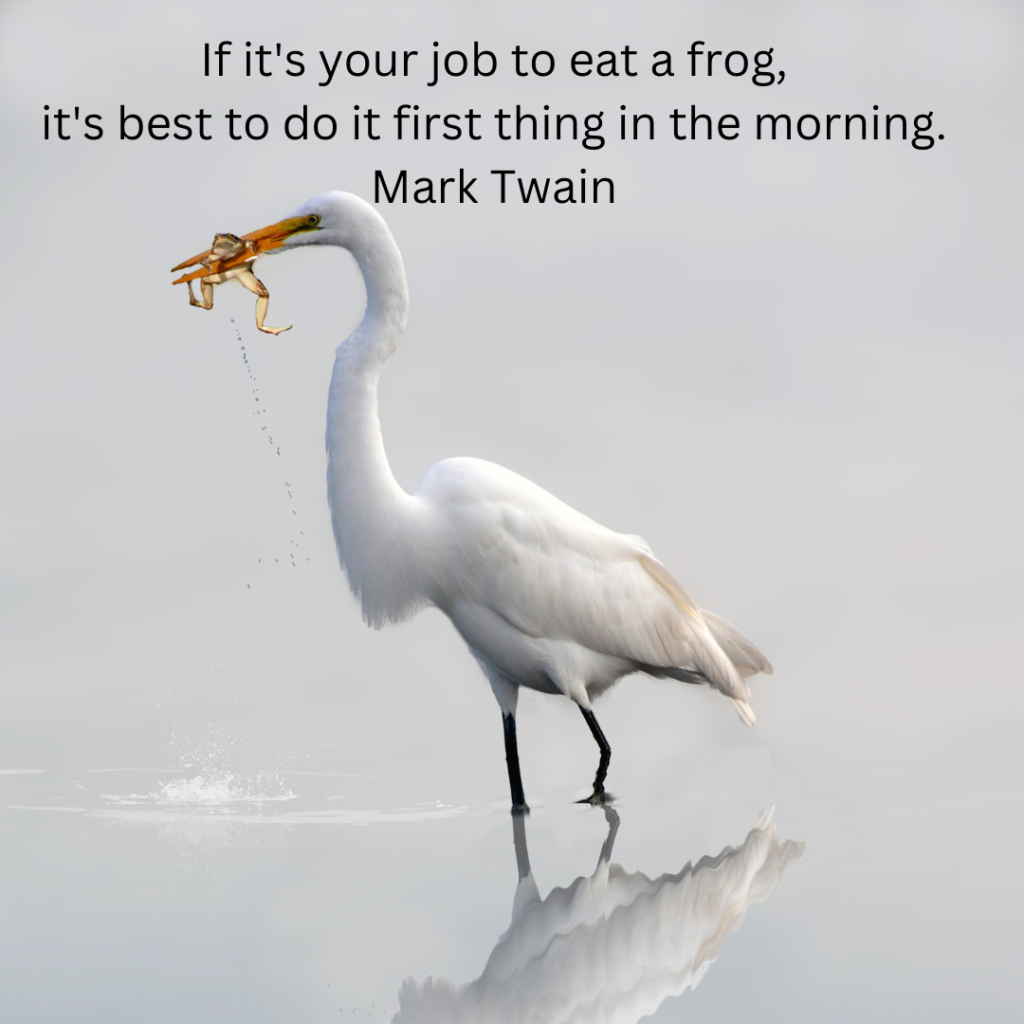 This week, I've seen a post circulating that says, "I had a lot of things to do today. Now I have more things to do tomorrow." We often make jokes about procrastination like "tomorrow is anti-procrastination day" or "the meeting of procrastinators anonymous has been postponed indefinitely." While we make light of our putting things off, we actually create barriers to our own success. 

Mark Twain said, "If it's your job to eat a frog, it's best to do it first thing in the morning. And If it's your job to eat two frogs, it's best to eat the biggest one first." I'm as guilty as anyone when it comes to procrastination or avoiding unpleasant tasks. However, when I finally do the thing, it often takes mere minutes though I put it off for an extended period of time. 

In 1993, David Peoples wrote in Selling to the Top, "Indecisiveness and procrastination are the chosen ways of life for most people. They follow the course of least resistance, which is to do nothing. This provides a security blanket of never being wrong, never making mistakes, never being disappointed and never failing. But they will also never succeed." We believe that if we do nothing, we cannot fail. In reality, our failure is complete in our inaction. Not making a choice is still a choice. Doing nothing is a passive action that still has consequences. 
Research shows that by the end of the first week of the year, 23% of people have given up on their goals for the new year. By the end of the month, 64% of people will have given up. The most cited reason is a lack of or improper motivation. Sticking to any goal requires a firm "why" and consistent action.

The Bible provides instructions on avoiding procrastination. Every day is a new opportunity to start over. We don't have to wait until next year – we simply have to set our minds today, continually renew our minds, and focus on God's plan and purpose.
2 Corinthians 6:1-2 says, "Working together with him, then, we appeal to you not to receive the grace of God in vain. For he says, "In a favorable time I listened to you, and in a day of salvation I have helped you." Behold, now is the favorable time; behold, now is the day of salvation."
Ecclesiastes 9:10 tells us, "Whatever your hand finds to do, do it with your might, for there is no work or thought or knowledge or wisdom in Sheol, to which you are going."
Proverbs 13:4 says, "The soul of the sluggard craves and gets nothing, while the soul of the diligent is richly supplied."
Finally, in Colossians 3:23-34, Paul wrote, "Whatever you do, work heartily, as for the Lord and not for men, knowing that from the Lord you will receive the inheritance as your reward. You are serving the Lord Christ."
In other words, whatever we ought to be doing, NOW is the time. When we lack motivation, let us start by remembering that our work is for the Lord. Be diligent and keep going!