A Growing Cloud of Witnesses
Posted On March 22, 2016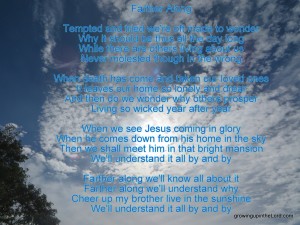 Sometimes we have no words for an event or situation. Sometimes the real problem is we have a jumble of too many words and getting them out or processing them interferes with all the emotions connected to the words.
The past few days have been filled with such words and emotions for me. I'm once again pondering the brevity of our earthly lives and the conflict produced with mourning as a Christian. From the eternal perspective, we have confidence that our loved ones have no pain and we will see them again, yet our human side only wants more time with them on this earth. One more conversation, one more hug, one more day to learn from their wisdom, to see their joy, to simply share life.
On Sunday evening, we learned of the sudden and very unexpected death of one of our elders. I didn't know him well, as we've been here still less than a year but we were connected to him, to our church family, and new hometown through his son, daughter-in-law, and granddaughters before moving here (we knew them during our time in Germany). My heart aches for my friends as they say an earthly farewell.
He was the "gum man" – the one the kids knew gave out gum at church. Dietrich met him and knew him as "Natalie's granddad." Every week he asked to go say hi and talk to him. I didn't immediately catch on that he wanted gum, but I hope he gleaned more than gum from these short visits.
I grew up in several different congregations, since I was a preacher's kid. Sometimes I feel a disconnection, an inability to relate – especially in times when I observe these families grieving together because they really grew up together. In these moments, I feel more like "outsider looking in" than any other time. Yet I empathize deeply with their loss and the flood of complicated feelings that grief brings. Maybe grief is never really simple or easy, even in a loss that is expected. Yet in all of the difficult feelings, we have hope. We have our church family to hold us and we believe that someday we'll understand.