Spending time in Hawaii means daily trips to the ocean. Daily trips to the ocean means walking through the sand to find a place to "set up camp" before playing in the water. Walking through the less wet sand gives the leg muscles quite the workout. I struggled with...
This week as part of our unschooling, we played Monopoly. Sadly, we do not have the paper money edition, but the new Electronic Monopoly (sad because I couldn't make Dietrich count the money). However, Dietrich still had to read and add so some basic principles were part of our...
What would you do if you were given a day where you could do anything? No boundaries, money is no object, the sky is the limit. The editors at The Original Bunker Punks pose this question in the first "Blog Battle Zone" competition. At first, I considered writing about...
This week's seven quick takes comes to you from my parents' house. ~1~ My husband insisted the kids and I needed to take an "end of summer" trip to see my family. We coordinated this trip with my sister's visit. Since she is a high school teacher, this really...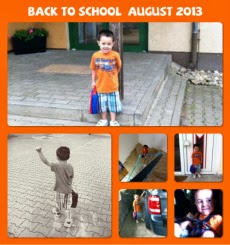 While not as packed with activity as July, August bustled with fun just the same. From VBS, to home fellowship, to Peter's birthday, every day held knew adventures. Dietrich also started back to the German Kindergarten and this year is a "Treff-Kinder" (one or two days out of the week, he and the...