Flying Flip Flops, Broken Bulbs, and Powerful Prayers
Posted On May 28, 2021
Happy Friday. On Fridays, I review our week with my friends in the form of Seven Quick Takes. Celebrate Fri-Yay with us and share your wins for the week.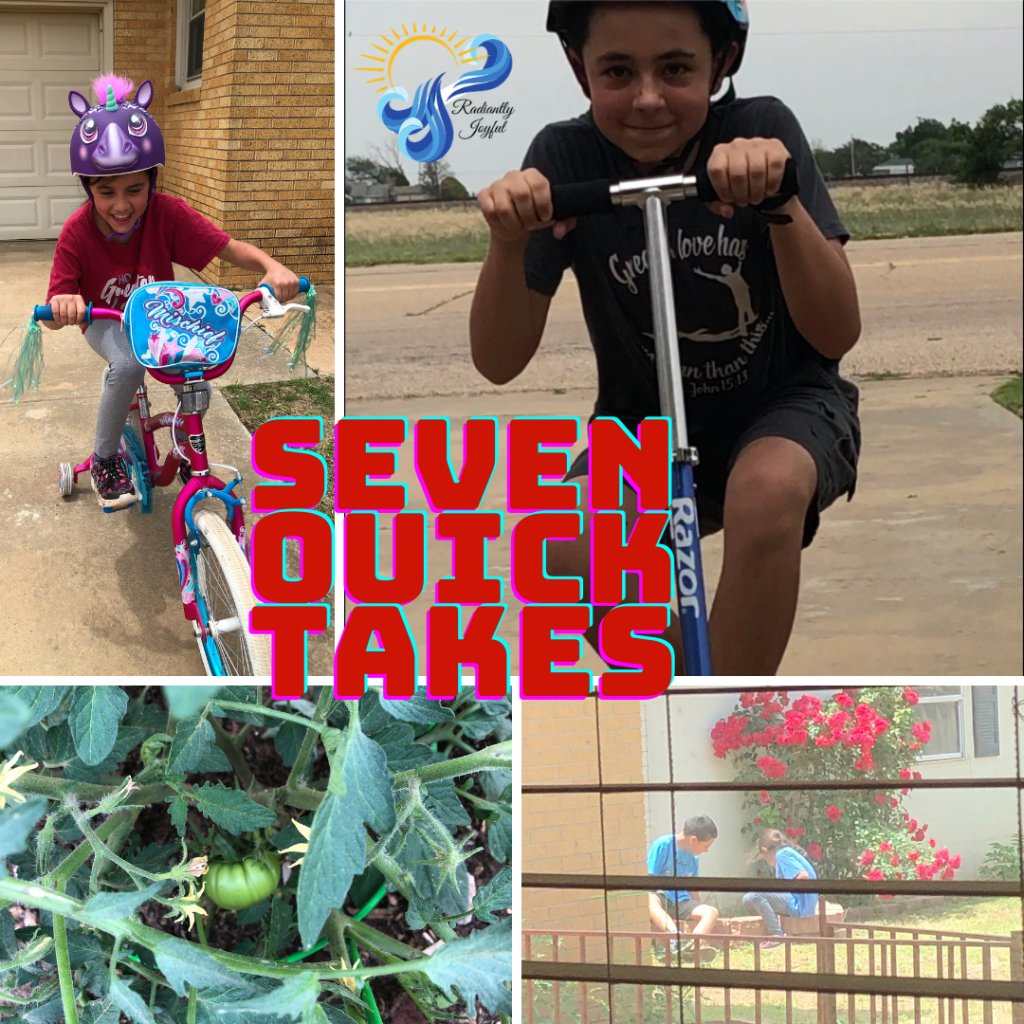 My parents visited over the weekend. In addition to spending time together at home, we also went to Wonderland Amusement Park. Everyone seemed to enjoy this special outing. We had a few bumps and bruises along the way. Some rides just aren't as much fun as they used to be (at least, not if they are rough and bumpy or involve really low seats). The kids had a blast which is what really matters.
The original plan was to eat at the Texan afterward, but the place was packed. We drove around and eventually landed at Taco Villa. The kids have had a lifetime of going along with changing plans, so they enjoyed fast food tacos with the same enthusiasm as they would a steak dinner. 
This week, we noticed our first tomato in the garden! We've had a lot of rain which has been great for the plants – especially the rosebush. For the most part, the rain and thunderstorms have been in the evening, so that allows for plenty of outside time during the day. 

Madilynn started the week by learning a lesson about reacting in anger and the importance of appropriate footwear. Sadly, my desk is not situated where I could see the flying flip-flop. 
We continued learning together by removing one of Madilynn's training wheels. Other than some sore muscles, she's doing a fabulous job!
Wednesday evening brought us the "exciting" kind of storm system with bright lightning and loud thunder and a Tornado Warning. We kept a watchful eye on the radar and assured the children they were safe and they would be the first to know if we needed to go to the basement. The storm moved in a different direction as it weakened, so we didn't get the worst of it but it did disrupt our regular evening routine. 
This week in our Wavemaker Ministry, we highlighted prayer. We meet "in the studio" a few minutes before going live, to check sound, lighting, and internet connections. As I was shoveling my supper down, I moved my foot, and one of my lights crashed to the floor. This happened within seconds of my husband getting home. Somehow, I had the sense to stay calm, clean the mess, and just breathe. My friend commented on how impressed she was with that during our presentation. So often, getting upset or angry doesn't do anything to fix the problem. Purposeful action does. (Basically, I followed my own advice from the Flip-Flop Story).
I pray that you have a blessed weekend and celebrate your wins from this past week!