Adventures in Homemaking: My DIY adventures
Posted On August 18, 2014
This post has been in my head a long time. I'm far from "crunchy" but I am a bit "crispy". Part of this came out of my child's allergies and both of my children's sensitive skin. Part of it came about because I wanted to save money. The final factor is the concern for chemicals though this concern gets a little bigger almost daily.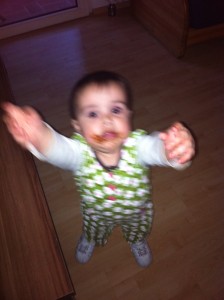 My little girl eats… a lot… she also eats messily. Rather than spend several dollars on a bottle of stain remover that will not get me through one load of laundry, I researched until I found this homemade stain remover. Two ingredients, two products that together equal the cost of one stain remover, yet I can make multiple bottles of homemade stain treatment.
Another draining expense: Swiffer cleaner refills. In Germany, most flooring is tile or wood, making mopping necessary and frequent. I like the Swiffer because it's convenient. I didn't like purchasing throw away pads or replacing the cleaner every couple of weeks. I found some washable pads for the Swiffer and found this hack to replace chemical cleaner with whatever I choose (my favorite is a half and half vinegar and water with a few drops of essential oils). UPDATE: I don't know if it is the bottles or my ingredients rarely do my Swiffers continue working after using this hack. 
The very first "crunchy" solution I looked for was a natural liquid laundry detergent. Spending $7+/month on the dye/perfume free stuff for my kids' sensitive skin was too much, especially when I learned I could spend the same amount and make my own detergent for almost a year! I'm so thrilled with this recipe, I've been using it for almost two years. Occasionally, I will add an essential oil, but it isn't necessary. The clothes get clean and we don't have any additional irritants.
Those are my favorite finds, feel free to share yours as well.