Wacky Wednesday: A Comedic Review
Posted On July 2, 2015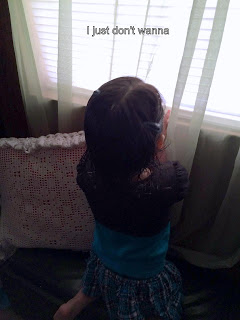 Some days simply do not go as planned or they get started much later than intended or you
just don't wanna
. That is an adequate summary of the week. Dietrich bounces into my bed a few minutes after Peter leaves, ready for the day, and I can barely open my eyes. I practically beg him to let me sleep a little longer. He doesn't oblige. Somehow I stumble to the Keurig, get his breakfast while the water heats, and manage not to do anything too weird (like pour juice in the cereal or coffee). The "to do list" strategy still seems to be working for an overall improved attitude in my little boy.
He thrives with routine and knowing the expectations
.
After a little while of stalling with Facebook, checking e-mail, connecting with other bloggers, and checking my therapy client list, Madilynn wakes up and I repeat the breakfast routine with her. Today, we brought a basket of toys downstairs with us. She played with toys on the dining table. When I say playing, I mean scraping against, making an awful sound and probably scratching the already worn out table. As I walk back through later to pick something up, I ask why something (I don't remember what) is on the floor. I then glance over and see Peter's new school book in the basket of clean laundry. I don't think either parent put it there. As I'm asking the question, I realize it's ridiculous to ask the question.
Dietrich's been asking about mosquitos and volcanos. We utilized our World Books today to find some answers. He recalled nearly every fact I read to him about mosquitos to tell his dad at supper. Did you know there are 3,000 species of mosquitos and they live all over the world – even in the Arctic? You are welcome.
After some errands, he wanted to watch Celtic Thunder. He kept asking the same question over and over about if I went to a concert and if I talked to them. Sadly, the venue in Colorado doesn't allow for talking to them unless you pay for the PBS meet and greet tickets. I asked if he wanted to go see them. Their schedule for this fall isn't posted yet so that conversation fell flat. I'm sure he will ask the same questions again tomorrow.
On the way home from Bible study, I suddenly felt turned around. I said, "I am so confused." Madilynn responded, "I a-fused too." So funny!
The congregation we've attended most since moving has a summer reading program. If the child reads five books, they get a prize. Dietrich checked out his fourth and fifth book tonight. In reading about Job,
he kept calling Satan "Stan"
– which I found hilarious.
Madilynn didn't know what a Walmart was nine months ago. Now she thinks we should go any time we are in viewing distance. Don't be confused though, she's not a very helpful or patient shopper. She thinks she should walk through the store rather than ride. I think if I could still lift Dietrich enough to get him in the cart, they'd both ride so I could get through faster.
Madilynn is really developing quite a personality all her own, most of the time sweetness is mixed with her strong-will. Topping it off, she grows more beautiful on the outside every day. I hope we're growing her heart and mind as beautifully.