It's been a long few months though we've trusted in God's provision and promise, patience is wearing thin. I have no power of my own to rise above – that strength comes only from God. Sometimes, perseverance doesn't feel like a choice. Sometimes, it's a driving force that keeps everything going. Sometimes, you overcome the challenges simply by being too stubborn to give up. Well, that's what military life – and the separation from it – feels like.
In the Caswell Family, we've had a
long
 almost six months. Once again,
God's timing
in all things is perfect. I will continue to trust Him to put the rest of the pieces in order. Welcome, Third Thursday Readers. In this month's blog hop, the superpower we focus on is the power to overcome. The timing of this theme and God's work in our lives have a connection. For three weeks, I've been "blocked" – unable to figure out what to write on this topic. So often, I don't feel like much of an
overcomer
. I feel average in the challenges I've faced and the ways I've handled them. I believe my faith has grown through every experience, but I don't necessarily see the struggles as a "big deal" – at least not in looking back. At the beginning of this week, Peter officially accepted a new job, which he will begin next week. We are beginning the search for a new house in which to put our home. We will find a new church family, get connected in a new community, and make new friends. The real
hero
 in my story though – is a sweet, tender hearted six year old boy, my Sonshine, Dietrich.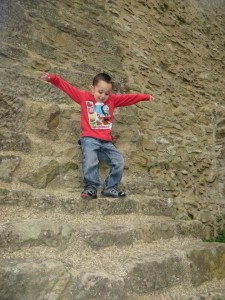 For the past few years, I've noted that April is the month of the
Military Child
. I've often written about the trials and difficulties that come with being a Dependent. When we left Germany, we said good-bye to friends. We also packed our belongings unsure of when we would be settling in our new home. We separated from a community and a lifestyle, though willingly and for reasons right for our family, it changed the identity of our family. Dietrich is resilient. He is brave. He is an overcomer. Oftentimes, he wears his heart on his sleeve and is easily overtaken by his emotions. Less often, does he express the thoughts
driving those emotions (whether because he is six or a boy, we're still working on giving him words for the high-stakes emotions).  Recently, he said, "I don't have any friends… but I do have Madilynn and she's the best sister." The sweet sadness melted my heart. I know he will make new friends quickly, we all will.