Three of Me
Posted On September 23, 2015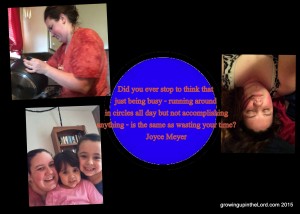 As I put my shoes on this morning, in preparation to leave for story time at the library, I thought how wonderful it would be to have an extra me to stay home and get things done. Then I added a third me to that because I most wanted to crawl back into my pajamas, snuggle under the blankets, and listen to the rain on this first day of Fall in west Texas.
Instead of having three of Me to get everything done, feel well rested, and have fun with my family (because in my made up clone scenario each of the clones receives all the benefits and comes back into one self when I decide), I often feel like I'm running in circles. Headless chickens, dogs chasing their tails, or my own children that literally run circles around me all describe the way my thoughts of chores, school, fun, and grown up worries circle around my mind as I circle around the house to get even one task done.
While this scenario isn't possible, I considered it as I meandered in my circular routine throughout the day. My thoughts continued their circular pattern, even as I enforced quiet time giving up on completing all the chores. Sometimes offering the best to our family means taking a break from All The Stuff, taking time for rest, and really enjoying the moments – even in the messes.
Until I can have my impossible dream, I'll continue life in running in circles. Maybe the kids can show me how to enjoy such an activity again.
This post is part of the One Word Blog Linkup hosted by, Janine and Lisa! This week, the word prompt choices are POSSIBLE and CIRCLE. If you would like to join the linkup you can find more information HERE, sign up for weekly emails HERE, and/or join our Facebook group HERE. Every Friday, two prompts are emailed. Choose one and write a post using that word as inspiration. Linkup up any time between 6:00am EST on Wednesday-9:00pm EST on Thursdays on any of the host sites.
I link up with bloggers all over the world.
Follow me at Follow