The Saga Continues
Posted On August 24, 2015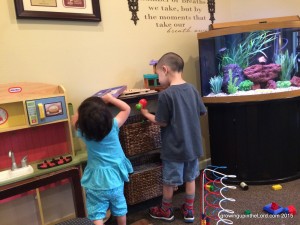 If you live in the Lubbock area and need an allergist, I highly recommend allergist Dr. Suzanne Beck. She spent more than
adequate time talking to me about our concerns and seemed genuinely empathetic regarding our battle thus far. Even more astounding, she spoke to me as a person of intelligence. Many doctors see "just a mom" and do not realize that I am educated and that I search for answers from all sources (not simply WebMD or wiki related sites, but reputable journal articles and others with similar experiences. I am willing to try anything to relieve my children's symptoms, as long as it will not cause them further harm. Dr. Beck is the first doctor who said, "Yes, this is asthma" when listening to Dietrich's cough. She is treating his asthma aggressively and not treating the cough as an infection. Everything I've been attempting to get across to doctors for several years received validation. All of the antibiotics I failed to finish giving Dietrich – turns out I was right to begin with.
Anyone who follows my blog knows about our allergy story, Dietrich's extensive history and the recent tragedy of discovering Madilynn's allergy to peanuts. This referral served as a follow-up and first time testing in Texas for Dietrich, to track any changes or additions, and to find out what environmental factors we were fighting here. For Madilynn, we needed to know if peanuts would be our only contender or if she had more lurking under the skin, like her brother.
Madilynn   
Though she squirmed at the pokes, after being given her suckers, she was quite content. The measuring scale ranges from 0-10+. Madilynn received only the pediatric panel with 20 pokes. She had no positives, other than the histamine control, on the inhalants which included cats and dogs. On food allergies, she had a small (3) reaction to milk and a BIG (10+) reaction to peanut. Basically, we continue strict avoidance of all things peanut. With milk, she shouldn't eat queso, cheese crackers, and a milkshake, in addition to her normal intake of milk all in one day. Makes for really bad diapers the following day. Truthfully, I have some milk sensitivities and I need to quit the milkshakes completely as well. Solidarity!
Dietrich
Dietrich received 100 pokes from the "adult" panel. Maybe he inherited some of my immunotherapy treatment after all because he has very few pollen allergies. Dust mites came back elevated, as they have in the past. In Colorado, due to the elevation, the mites cannot breed so this was less of an issue. In Germany, we had all hardwood or tile floors, so I had to sweep/mop much more often. This week I bought him a brand new allergy pillow, pillow cover, and mattress cover. I also washed all of the sheets in hot water and he is limited to ONE stuffed animal friend in his bed.
This will continue to be a pet free home and it looks like visits to a farm might be tricky too. Dietrich reacted greater than 10 to dogs, cats, feathers, and horses. I guess I should quit asking him if he wants to learn to ride a horse. On the other hand, he wants to learn about things that hatch. The easiest thing that comes to my mind is baby chickens.
On grass, he reacted minutely to two types of Rye Grass and mid-range on orchard grass. He also had a low reaction to the black willow tree. Molds were his big environmental trigger. All this time we were told to use a humidifier for his skin, but that has the potential to cause a mold problem. He reacted to five types of mold, ranging from 5 to 10+ in the severity of his reactions.
Now the part you've all been waiting for: Dietrich so badly wanted to be "un-allergic" to eggs. I'm very sad to report, he did not get his wish. In fact, on the adult panel they test the egg yolk and egg white separately. He reacted 10+ on both. Same result for fish and peanut. He had several 3 and 5 reactions that could be real or a "false" positive. That list includes green peas (which I never serve because Peter won't eat them), casein/milk (but not whole milk), shrimp, soybean, cashew, chicken, and Baker's yeast. With these results, Dr. Beck requested an IgE blood test. A normal result in a person without allergies is typically less than 20. Dietrich's level is over 3000. Strict food avoidance per the doctor's orders now includes tree nuts and shellfish, along with the eggs, peanuts and fish (I pretty much already did that). I suppose I'll keep an eye on the other things and look for signs of reactions. I don't think he's really allergic to chicken, as often as we eat it. I'm sure he'd have some sign of a problem if that were the case.
Treatment
As I wrote above, Dr. Beck is going after his asthma aggressively to get this latest flare-up under control. She changed up Dietrich's maintenance routine by adding an inhaler and nose spray. Unlike his mother, he doesn't mind the nose spray. Dr. Beck also started Madilynn on a daily antihistamine. I feel like I'm a pharmacy dispenser at least twice a day.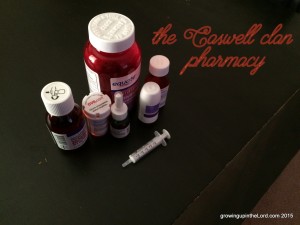 Final Thoughts
To those who read Madilynn's story and have prayed for us since, thank you. Some days I am overwhelmed when I think of the friends I've met online that are praying for us. One day, in corresponding with one of you dear friends on Facebook, shortly after the appointment was set, I physically felt the weight I'd been carrying lift.
If you have a child struggling with allergies, asthma and/or eczema, you are not alone. I'd be glad to share anything I've learned through my experience and help you in your journey to answers and the best possible treatment for your family. Even though I don't know you, I am praying for you as well.