The BEST egg-free brownies
Posted On July 10, 2019
adapted from the "Hershey's Best Brownie recipe
INGREDIENTS
1 teaspoon vanilla extract
1/4 teaspoon salt
1/2 cup pureed Pumpkin
1/2 cup all-purpose flour
1 cup sugar
1/3 cup HERSHEY'S Cocoa
1/4 teaspoon baking powder
1/2 cup butter or margarine (1 stick) , melted

(this recipe easily doubles to a 9×13 pan)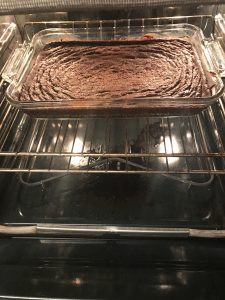 DIRECTIONS
1. Heat oven to 350°F. Grease 9-inch square baking pan.
2. Mix butter, sugar, pumpkin, and vanilla in bowl (I use my standing mixer). Stir together flour, cocoa, baking powder and salt; gradually add to mixer, on lower speed, until well blended. Spread batter evenly in prepared pan.
3. Bake 20 to 25 minutes or until brownies begin to pull away from sides of pan. Cool completely in pan on wire rack.