Surfing the Waves
Posted On February 7, 2020
After a seven month hiatus from writing, I'm back. This seven quick takes will highlight more than the previous week because so much has happened. Writing again is just the thing I need to be doing, even when it also seems like the hardest thing to do. 
Getting through Grief
I could easily turn this into a "seven things you may not know about grief" post, BUT I am saving my thoughts on that for another time. For now, it is enough to say that in the last several months, we've gone through all the emotions, more than a few times. While we miss our friends, we have great joy that they knew Jesus. We're inspired to share our faith in the same way they did. We strive to make waves with everyone we meet. If you have any tips for helping children process grief, I'd greatly appreciate the input.
Super Full Sunday
Every first Sunday we have a potluck lunch after morning services. On first Sundays, we also have an opportunity to provide a devotional at one of the nursing homes AND have a singing night at the home of one of our families. This past Sunday, we also added the Leadership Training for Christ Bible Reading presentation. It was a long, full, and beautiful day! I missed his introduction, but here is Dietrich, reading Philippians 4:4-13.
A Weather Wonder Land
This week, towns all over Texas experienced a blanket of snow. Some a light dusting, some several inches. In Plainview, the snow melted as soon as it touched the ground, without any accumulation. Just a few miles in any direction out of town, my friends posted pictures of snow covered lawns. We've decided this town has a separate weather pattern. Even my parents in Central Texas had more snow that we did. Here is their yard.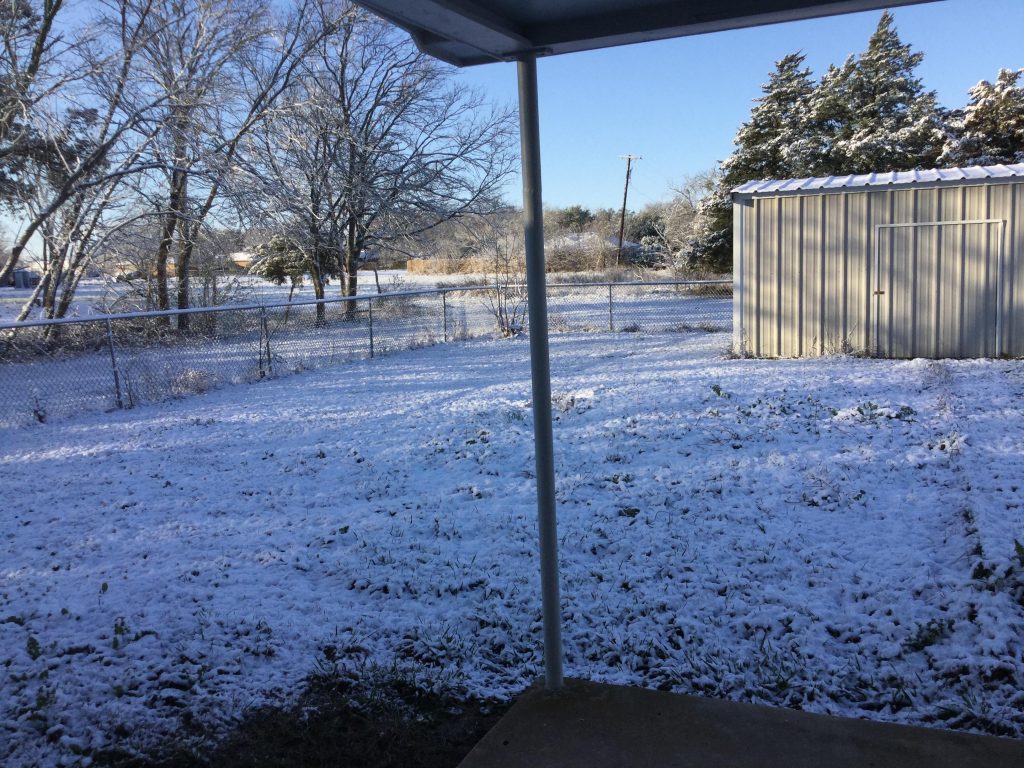 No sick days for Moms
I've been less than 100% this week with a cold/congestion. While I'm fighting it off, the kids think they should also fight (with me, with each other) at a higher than average rate. This ends the same way each time: Madilynn in tears, Dietrich losing screen time, and me feeling like no one actually hears anything I say. In these moments, I try to remember to take a deep breath and respond in love. This is more challenging when I'm not physically at my best. Please pray that this bug ends soon.
All the Emotions
In addition to surfing the waves grief and tantrums, my husband's PTSD flared up this past week. I did a video, partly in response to that, in case others in situations like ours need information and support and partly to refresh my own skills. PTSD symptoms are not always visible, but they do often follow a pattern. The most important factor in any situation is to monitor for safety.
Back to School
In January, we re-started school with fierce determination. Well, at least I did. I mapped out what we need to do to get caught back up after nearly a semester of not doing much. Besides being derailed by significant loss the day after we started school in August, fall is a busy season for my business. In many ways, they aren't "behind" as much as they are unwilling to get back into a routine. For the most part, however, the school portion of the day is the best part. In the past, I have attempted to do other things while the kids do school work. This year, I'm focusing on being available during school time, even when that means other things get done later. The first week, this worked really well. This week, probably in combination with not feeling my best, it's going less than mediocre.
Working for a Goal
Finally, this week, even with the discord in the home and the extra stress of being sick, I've been steadily working on my personal goals. The top one is daily Bible reading. My friends and I are doing a "read through the Bible in a year" plan together on the You Version app. I love that I'm reading and sharing God's love and fellowship with my closest friends! The accountability keeps me focused so I don't get too far behind. When I do miss a day, I catch up, because I want to spend that time in the Word and with my friends.