SQT: Surprises, Oreo Moons, and Abusive Dolls
Posted On September 4, 2015
Happy Labor Day Weekend! As we get September in full swing, hoping for cooler temperatures and waiting for the vibrant colors of fall, here are Seven Quick Takes for the week.
~1~
We started "back to school" this week. I am very low key in this area. However, Dietrich sometimes believes the very little work he has to do (by comparison to the busy work of public school) in whatever time it takes (he's capable of finishing three subjects in less than two hours, if he chooses to work) is "too hard" or "too much" or just "not fun."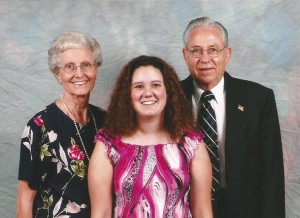 ~2~
Dietrich did get an expected day off in the middle of the week. On Tuesday night, my grandmother called me and said they
would be here the next day. This isn't the first time she's surprised me, but it is the first in several years. I'm so glad to be close enough that a surprise like this is possible again! It's much harder to surprise the person you want to visit if they live in a different country…
~3~
In real school, students aren't supposed to talk. Dietrich talks all through his work. I'm not sure he ever stops talking or thinking. Even when he gets quiet, I can almost see the wheels turning in his head and forming more words. He spells out his spelling words, talks out his math, retells his reading/writing assignments, and expects me to check each problem individually. EVERY DAY I tell him I will check the work when he's done. EVERY DAY I repeat myself. Even on the days we use K5Learning, I still have to remind him to listen carefully to the "teacher" module. I should just record myself and replay it on a loop during school time.
~4~
I have not worked out my own writing/working schedule in coordination with schoolwork. Even when I attempt to work when Dietrich is working and set Madilynn up with an "assignment," I can count on multiple interruptions. This week's one-word challenge post took me almost two days to finish.
~4~
This week's Tuesday Ten post involved digging into pre-blogging/pre-facebook days. I had fun looking through old pictures and memories. I hope to have an extra "Before this Blog" post finished up to post soon.
~5~
I really had a great week of exciting news, but none of it that I can share yet. HAHA…
~6~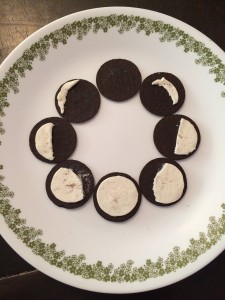 On Wednesday evening on the way home from mid-week Bible study, Madilynn was disturbed asking, "Where did the moon go?" I don't know… It should have been in the waning gibbous phase, but here in Plainview, no moon was in plain view. I didn't find it last night either. Anyway, this inspired a moon phases lesson using Oreos.
~7~
One night Madilynn summoned me with screaming. When I checked on her, she told me her "baby hit her." The baby doll received a time out on the opposite end of the bed, I re-snuggled Madilynn with a different friend (a small, soft Hello Kitty) and she went right to sleep. The baby doll in question is my, possibly antique, Sally, who has been featured here before. Sally is forgiven now though. Madilynn brought her downstairs with a bottle to have breakfast and play the next day.