SQT: Matchmaker, Matchmaker and Friendship Reunions
Posted On August 14, 2015
This week seems to have flown by in some ways. In others, I'm just as tired and behind as ever. That must mean it is time for another Seven Quick Takes.
~1~
On Saturday, I attended a Ladies' Day gathering with our church. I did not have to carry an entire allergy kit around with me for two children. My hands felt rather empty in the beginning, but my heart left full to overflowing.
~2~
On Sunday, some friends we met in Germany met up with us for lunch. We really miss seeing them all the time.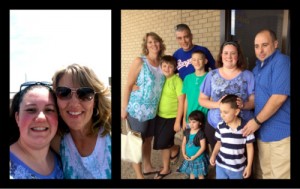 ~3~
The older of the boys, Stephen is Madilynn's buddy. Tonya told me once that the age difference between Madilynn and Stephen is the same as between her and her husband. Kind of changes how you look at things…
~4~
As I unbuckled Madilynn after we arrived home, she looked sad and said, "I miss Stephen."
~5~
On Monday, I started PiYo, a Beachbody workout. This is my first real "working out" in a while. I am glad for a coach who is a friend with similar struggles and the support group she's formed for us.
~6~
I'm still desperately trying to catch up on Bible reading and keep up with my growing draft ideas. I'm not doing too well on either. I used to be much better at time management. Anyway, if you are a regular, I hope you've enjoyed the lessons I've learned in my Bible reading.
~7~
Peter and I started watching Doctor Who on Netflix. We finished season one. Yes, we are a little late on this bandwagon. The point is we're here now. Add it to the things we need to catch up on… My favorite part is saying, "I've been there!" Every time they show different scenes in London.