SQT – Another Music Filled Road Trip with a Surprise Wildlife Ending
Posted On October 9, 2015
I don't have anything clever to lead into this week's Seven Quick Takes, so I'll dive right in:
We spent a wonderful weekend with my sister and brother-in-law. Dietrich enjoyed much more time playing the Wii and Madilynn enjoyed having more people to tell what to do. My friend, Jennifer, lives near my sister, giving me an extra reason to go visit.
Have you ever driven through Groom, TX and seen the HUGE cross? Well, here it is close up and here is the website for more information. The man who built it is from my husband's hometown. I made this one of our bathroom break stops, though I would have enjoyed more time to look around, the kids' need to run didn't seem to fit the "mood" of the place.
We began Sunday by worshipping at Memorial Road church of Christ, which ended with a baptism. My dad made it into town for evening worship led by Keith Lancaster at the Oklahoma Christian lectures (check out this sample of congregational singing). We heard a sermon presented by Duck Dynasty's Alan Robertson and finished up with part of the Acappella concert (the kids were too restless and hungry to stay too long, but I thought Madilynn might try to join them on stage in the few minutes we were there). Truly a wonderful day, but a Greater day is coming! Here is Madilynn "jamming:" IMG_1948.mp4

She pointed to herself and said they were talking to her. A new generation of Acappella Stalker is born!

Before going on this trip, I had a fraud alert on my debit card. Nothing adds to the adventure like preparing for it with only an extra ATM card and relying on cash. Gas stations are much less fun when you have to get out and pre-pay then go back in to take care of bathroom/diaper changing needs and unloading the kids both times.
When we arrived home on Monday evening, one of our neighbors also arrived home about the same time. Her door had water dripping from the roof, as though it only rained on that side of the unit, because our side was dry. She made this "gasp/ew" sound, which I thought it was about the water, but it was about a "lizard." She asked if my husband could take care of it because she has a cat. Dietrich went inside and retrieved his science bucket, Peter caught it. We admired it for a bit. Peter released it out in our "yard" then it quickly left. A little while later, a friend posted her boy with a similar creature, calling it a Salamander. I had no idea Salamanders were common here until then. Naturally, we used our World Book this week to learn more.
Much of this week was spent helping a friend prepare for her wedding next week. My apartment became crafting and repurposing central for a couple of days. Dietrich was glad because the only school he did this week was on K5Learning (besides looking up Salamanders). Oh, and did I mention, we're all a part of the wedding? Peter is an usher, Dietrich is the Ring Bearer, Madilynn is the Flower Girl, and I am the Matron of Honor. This next week will be busy also!
After being away and running around, Friday was dedicated to cleaning the house, Madilynn's room especially. If you don't know or remember, when we first moved into the apartment, the A/C wasn't working properly, due to being frozen over. Even with that fixed, Madilynn's room gets the majority of the cool air. We cover part of the floor vent so she doesn't freeze. Well, when I moved the box that I threw over it most recently I found this.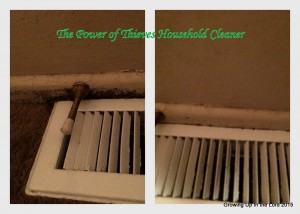 I used my homemade wipes with Thieves Household cleaner, with no scrubbing, and Voila!
I end this post with an invitation: if you are in the Amarillo area, come out and visit my booth on Saturday, October 17 at the Texas Tech Health Sciences Center at 1400 Coulter Ave from 10-4 (The link provides more information on the event). I'll be glad to answer any of your Essential Oil questions. If you aren't in this area, feel free to leave a comment or contact me through any of my links. If you already use essential oils, I'd enjoy hearing your story and your favorite products!
I link up with bloggers all over the world.
Follow me at Follow
Post may contain affiliate links. All photos belong to the author and may not be re-used without permission.