Pumpkin Oat Scones
Posted On September 25, 2013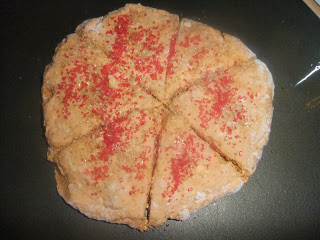 This past weekend, the church ladies had a tea party to celebrate a new baby and his mother. The tea party was complete with English Clotted Cream and Scones (the hostess sent us all home with the leftovers). I began to think about what kind of scone I could make. I remembered I had some pumpkin. I adapted this recipe, partly out of necessity, as the instructions were lacking in parts.
3/4 a can of canned Pumpkin
1/4 cup light sour cream
1/4 teaspoon vanilla
1 cup flour
1/2 cup quick oats
2 Tablespoons granulated sugar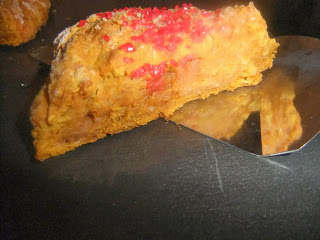 1 teaspoon baking powder
1 teaspoon pumpkin pie spice
1/2 teaspoon baking soda
1/4 teaspoon salt
2 Tablespoons butter/margarine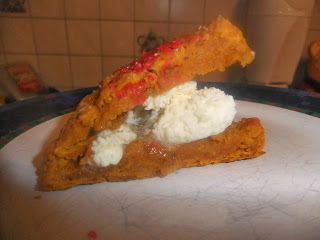 Preheat oven to 400 degrees. Spray baking sheet lightly with cooking spray (I used butter flavored). Combine all dry ingredients in a large bowl. Cut in the butter with a pastry cutter until the mixture resembles a course meal. Add in pumpkin, vanilla, and sour cream, mixing thoroughly. Knead the dough on a lightly floured surface until it can be shaped. Roll the dough into a ball, place on baking sheet, and flatten into a disc. Cut the disc into six equal wedges, as cutting a pie. Bake for 20 minutes.
I also topped ours with cinnamon flavored sprinkles.