Pork Chops with Ginger Snap Gravy
Posted On January 19, 2012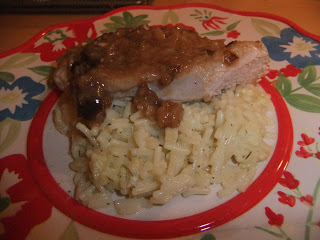 1 lb lean pork loin, trimmed
1 tbsp olive oil
1 1/4 cup water
1/2 cup onion, finely chopped (I use onion flakes, and only about 1/4 cup because we aren't big onion people)
4 ginger snaps, crushed
1 tbsp apple cider vinegar
1 tsp beef bouillon granules
1/8 tsp each black pepper, ground ginger and ground cloves (I used about 1/4 tsp of the ginger and cloves, because I love the flavor)
Brown the pork on both sides in olive oil, remove from heat, drain completely on paper towels. Move to a baking dish coated with non-stick spray and set aside. Using the same skillet, add water and onions, heat to a low boil, cover and simmer for two minutes. Add ginger snaps, vinegar, bouillon granules, pepper, ginger and cloves. Cook until bubbling, stirring occasionally. Poor the mixture over the pork loin.
To cook  and serve immediately: Bake at 350 for 20 minutes, or until meat is done.
This meal can be prepared in advance and frozen. To cook from frozen, bake at 375 for up to an hour, until meat is done. I've also tossed everything in a crockpot and prepared it that way.
Goes well with or over rice.