November 2013 in Review
Posted On December 11, 2013
Germany celebrates many holy days of various saints. Through Dietrich's attendance at a German Kindergarten, we have learned about some of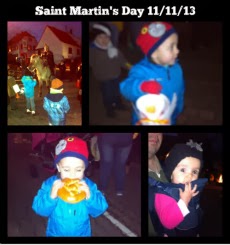 the culture and traditions. St. Martin was a Roman soldier turned monk after his baptism as an adult. He earned sainthood by performing a good Samaritan deed of sharing his cloak with a beggar during a snowstorm. On November 11, this deed is celebrated with a Lanternfest. The children make lanterns at school, the sing songs and march through the village. Last year, Dietrich stayed close by me and wouldn't participate in the singing. This year, he sang with the other kids and continues to sing the songs at home. I had videos, but they seem to have disappeared from my phone. However, I did post it on Facebook, so that link is here. Yes, that is the "Yellow Submarine" tune, but they are singing, "here we go with a lantern through the town".
After living in Germany for two years, we finally held third Sunday evening Home Fellowship in our home. We wanted to do this for a while, but Peter's had numerous TDY assignments and a deployment. Hosting on my own would have been much more challenging. I'm so glad he was home and we were able to share this sweet time with our church family.
We were blessed to attend the Euro-American retreat in Rothenburg.  This beautiful medieval city provided a great place to get away as a family for a few days and connect and recharge with our extended church family – people we were always connected to through the blood of Christ, but finally had an opportunity to meet.
Thanksgiving Day arrived a day after we came home from the retreat. We celebrated together as a family, a somewhat rare treat for us. Peter requested duck for the main course, so I obliged (since he's here for the holiday). Madilynn liked the marshmallows on top of the sweet potatoes best.
We ended November by getting out the Christmas decorations, including fun headgear and tangles of lights.
It's beginning to look a lot like Christmas!