My Haven of (earthly) Rest
Posted On February 2, 2016
I am often cold, Peter would say "always." However, I would argue that I did get too warm living without A/C in Germany and during the summer here in our apartment with its goofy air circulation. When I get cold, especially my feet, I feel as though I'll never be warm again. It takes layers of blankets or direct heat from the space heater to overcome the chill. Sometimes, even that doesn't work. When morning comes, I feel like I just settled in comfortably and finally feel within a "normal" temperature. Leaving my cozy bed feels like a chore. For February's Tuesday Ten, here are the ten reasons I love my bed.
I love my Sleep Number bed because Peter and I do not agree on Mattress firmness. While our numbers are not too different, it does make a difference in sleep quality. Before we replaced the pump, my sleep was more disrupted than usual. Now, it is perfect, with only the normal disruptions of apartment life, motherhood, and my own inconsistencies.
I do have some sleeping difficulties, whether it is trouble falling asleep for too many things running through my head, waking up a few times throughout the night, or some physical disturbance. When I do reach that lovely deep sleep stage, it seems that precise moment is when Peter's first alarm goes off.
This first alarm signals the Cavalry of Children (there may be only two of them, but they still know how to wage great battles) to come into our room. Madilynn will come "puddle" with me, rather than demanding I get up right away most of the time. Dietrich sometimes piles in also, but his favorite part of this often seems to be pestering his sister, or me, and sometimes even his dad.
These sweet moments of cuddling are a great way to start the day, though rarely does anyone go back to sleep. We are a primarily Physical Touch family, so these moments fill the love bank (even if everything falls apart as we begin the school day).
As I mentioned, my feet seem to be the most difficult to get warm. I also struggle to get comfortable to go to sleep sometimes. I like the way the sheets feel between my toes, and this is often a part of my settling in for sleep. Once my feet get situated, the rest of me soon follows, reminding me of a quote from The Lion, the Witch, and the Wardrobe: "Once the feet are put right, all the rest of him will follow."

Once my feet are right and I fall asleep, in no time, morning arrives. Oh, how nice and warm the covers feel compared to the air in the room (I mentioned air circulation problems). Getting out of bed, leaving the place where I am so cozy, leaving the sanctuary of sleep for the chaos of the Cavalry – can be overwhelming. Though I try to be positive, I'm really not much of a morning person. If we mix in a little (or a lot) of arguing about school or what we NEED to get done or asking of repetitive questions, I'm ready to call a time out and nap time before the Keurig finishes warming up.
My bed is not always for sleeping. It is also the favorite place for my kids to have a tickle war. This can be a very silly break in a difficult day. Laughter really is the best medicine and means of diffusing negativity in this house.
After we replaced the parts of the bed the movers damaged, we rewarded ourselves with new sheets (with deep enough pockets that the bed would stay made) and a new comforter. I think they add to the overall coziness of the bed.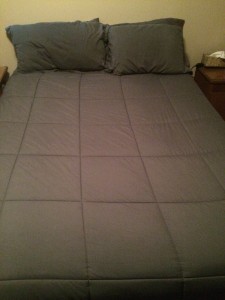 As mentioned above, I pile on the covers to get warm. Two of these are quilts made by my grandmother – actually, one of them I pieced the blocks one year during a "block a month class" that I took with her while I lived with them through Grad School. She finished it for me. These quilts mean so much more to me than physical warmth.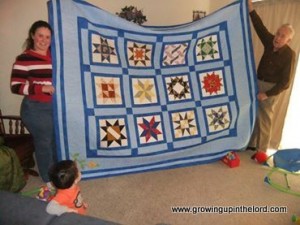 Except for the occasional tickle wars and morning "puddles," we've reached a stage of life that our room is a parents only zone. This is so important to keeping intimacy strong (not only physically, but emotionally as well). Some of our most important conversations happen in our room sitting or lying in bed, debriefing each other on the day's events. We share the good and the not so good. We ponder solutions and theorize how to make the world more perfect. We plan the future and reminisce the past. Our bed is our safe place, our haven. Perhaps God meant all of that in addition to the physical when He commanded, "Keep the marriage bed pure." (Hebrews 13:4)
All of this talk makes me ready for that nap… but it will not happen any time soon. Alas, I must wait for bedtime.
I link up with bloggers all over the world.
Follow me at Follow