Muffins
Posted On January 26, 2012
Most muffin mixes contain egg in the ingredients. Most pre-made muffins also contain egg, not to mention the "may contain trace amounts of peanut" warning. D wanted some muffins at Bible study so badly, that I decided I would have to make him some "safe" muffins. This recipe experiment turned out very well. In addition to being egg free, it's also dairy free, if any readers/searchers out there have that issue to contend with as well.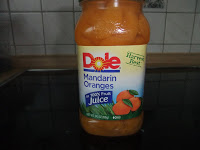 D loves mandarin oranges. I finally decided that the little single servings, while convenient, are not cost effective so I bought a larger container. I drain the juice before serving them, because of the inevitable mess that would follow if you give fruit in juice to a 3 year old. This juice happens to be excellent in baking (as both an oil/butter and egg replacement – I don't know how or why it works, just that it does). I drained off about a cup from the entire jar of oranges for this recipe.
1 cup orange juice from prepackaged mandarin oranges
2 cups all purpose flour
1/3 cup sugar
2 1/2 Tbsp. baking powder
3/4 tsp. salt
1 individual serving of applesauce – any flavor (for this recipe I used mixed berry)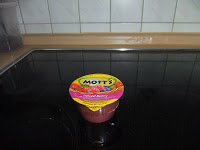 Grease a 12 count muffin pan. Mix dry ingredients. Make a well, then add orange juice. Stir until moist, then add the applesauce. Spoon into pan, until each cup is 2/3 full. Bake at 400* for 20-25 minutes, or until a toothpick comes out clean.