Making my Home and Heart Sing
Posted On November 2, 2015
Falling behind and attempting to catch up seems to be the most exercise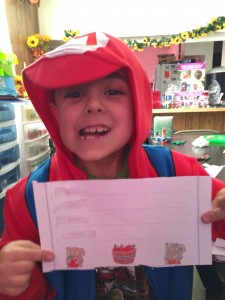 I get these days.
Dietrich gets many more "breaks" from school than I care to admit, but still feels tortured by the days I prepare his schoolwork and "make" him do school before playing Mario or watching Netflix. However, when he remains on-task, he can finish all required content in an hour or two at the most. If he forgets to read the directions, each task is completed at least twice, until it is more or less correct (not perfect, just within the scope of the directions).
On the other hand, some of the positive messages I attempt to get through must be infiltrating the stubborn will of both my children. We listen to Acappella and the Praise and Harmony CD's often in the car. The kids already have their favorites, the most requested song being "Shout Hallelujah." Yesterday morning, the worship service was a "sermon in song" – a primarily singing service with scripture reading highlighting the life of Christ. (If you are new here, you need to know that singing is my favorite Act of Worship. If you are a regular visitor, you know how much this kind of service brings my heart joy). The best part of the service was seeing Madilynn and Dietrich light up when the song leader started "our song." Dietrich is finally starting to sing and participate in worship. He still likes to talk and move around at the most inappropriate times, because he is a seven-year-old boy.
Madilynn's memory and ability to tell events from earlier in the day (or further back) has rocketed in recent weeks. She is going to give her brother a run for his money! I was taken by surprise a couple of weeks ago when she started telling her daddy about seeing a mouse. Since I didn't realize anyone was going to tell the story, I hadn't prepared him. We saw a real mouse running back and forth in front of the doors at Wal-mart. My kids were the calmest people witnessing this – adults running around like idiots. Yes, at first, I was startled to see a mouse dart across our path, but I tend to follow the "if you leave it alone, it won't bother you" mentality until proven otherwise. Madilynn now looks for the mouse every time we go to Wal-mart. Small town life at it's finest.
I continue to recover from my surgery. I'm feeling well, but know my limits and try to stay within them. Even so, the messes seem to explode in every room when no one is keeping up with them. It's starting to make me a little stir crazy and obsessive. I am truly thankful for all the people we have that are willing to help us out during this time! I am looking forward to being able to fully serve others again in a few weeks.
I link up with bloggers all over the world.
Follow me at Follow
Post may contain affiliate links.