Lessons in the the Middle of Psalms
Posted On May 7, 2015
I fell behind on my Daily Bible Reading during my
running away
and took a little while to catch up (especially after an urgent care visit for D's asthma). Truthfully, the daunting task of catching up seemed overwhelming when my stopping point in the Psalm-a-day portion of my reading landed on
the longest psalm
. Once I "got over it", the reading came easily. The Psalms
fill my heart with each reading, teaching something new every time. Since I read several at once, I saw an opportunity to share some of my reflections.
120:1~ I call and He answers
. This promise is expressed throughout the psalms, throughout the Bible, I've
written
 about it
many times
before, even so, I remain
humbly awed
 that the Creator
answers
 my calls. God doesn't have call waiting or voice mail. He takes every single call, even when I'm repeating myself.
121 ~ My help comes from God. The one watching over me doesn't sleep. I can trust in God to keep watch and not falter. Every night, I tell my children that they can rest in peace because God allows them to be safe (Psalm 4:8). I tell them that God is the biggest and He loves them bigger than even mommy or daddy or their grandparents. I tell them they have no reason to worry
about anything, because God takes care of everything. These reminders are as much for my benefit as theirs. I am grateful for a Night Watchman that cannot sleep. The chapter ends by saying, "The Lord will keep you from every kind of harm. He will watch over your life. The Lord will watch over your life no matter where you go, both now and forever."(vs. 7-8). With all of our comings and goings during this transitional time, this promise brings great comfort, peace, and joy to my heart.
124 ~ Sometimes when reading the psalms, I get very distracted because I start
singing a song
inspired by that psalm. This is one of those psalms.
125 ~ Verse 2 of this psalm, much like the previous, left me temporarily distracted and reminiscent. We learned
this song
at the
Euro-American Retreat
with Keith Lancaster. I can't think of a time I've felt more in God's presence than when worshipping with so many saints. This psalm also ends with encouragement for believers and followers of the Word.
"Lord, do good
to those who are good. Do good to those whose hearts are honest. But the Lord will drive out those who have taken crooked paths. He will drive them out with those who do evil things."
(vs4-5). We often see the wicked prosperous in this life and forget that ultimately God's judgment will prevail. Everyone will face the actions and misdeeds of this life. The question will be whether or not they accepted God's salvation and followed His commands, to the best of human capability. Yes, we will stumble. Thankfully, God is merciful and gracious. He's given us the free gift of
salvation
 if only we follow His way to accept it.
126 ~ The Lord does so much for us we ought to be the most
joyful
 people on the planet. Then I came to verses 5-6.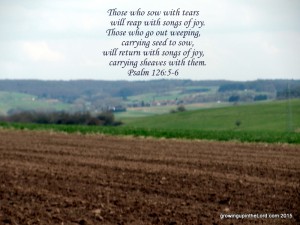 I couldn't help but think of the friend I mentioned at
the end of this post
. She's been through so much loss. An image of her sowing seeds of grief in this season, reaping joy in the next, and carrying armloads of joy beyond imagination filled my mind and heart. I pray that she reaps an overwhelming harvest of joy soon. I pray for patience, as God's timing is always perfect and our tunnel vision is nothing compared to His IMAX screen.
127 ~ The last psalm in my catching up reflected many of the same ideas as psalm 121, with an extra message that seemed just for me. "If the Lord doesn't build a house, the work of the builders is useless." (vs.1). As we prepare to be in a house of our own with our own stuff for the first time in almost seven months, I am excited! However, we must remember to
keep God in the center of our family
.