Immeasurable Abundance
Posted On August 8, 2015
When I visited my grandparents, my Grandfather led the Wednesday night devotional talk. He focused on Paul's prayer in Ephesians 3:14-21.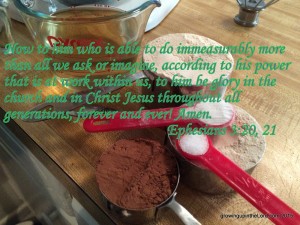 When I think of this verse, I sing it, because it is also an Acappella song. (Regular readers should not be surprised). My grandfather talked about praying this verse for his family (how humbling to be present and hear that) and the church. My grandfather loves the Lord and His church more than anything else. He serves as an elder whether or not he is in the "official" capacity at a local congregation. I think he hurts with the changes of the world's influence on the church. He knows that God's design for the church is perfect. That God's church is supposed to be the influencer.
With these thoughts still fresh in my mind, I attended a Ladies' Day. I enjoy being surrounded by the fellowship of Christian women. The first speaker talked about becoming an empty vessel for the Lord to do His work through and in our lives. In addition to scripture, she used excerpts from Andrew Murray's Humility and Absolute Surrender. Murray uses this idea of an empty vessel to demonstrate humility and willingness to let God live and work in our lives. "Humility, the place of entire dependence on God is… the highest … and the root of every virtue." I think of these virtues as the fruit of the Spirit. Without humility before God, we cannot produce good fruit for His glory. Murray also writes about Christ's humility: "His humility is our salvation. His salvation is our humility." If humility is the root of virtue then pride is the root of sin. We want to follow our own will. Sometimes we are no different from our children proclaiming, "I wanna do what I wanna do!" We are incapable of creating our own salvation. The perfect Son left Heaven to save each of us. Of all who have walked on earth, Christ alone had reason to boast and be prideful. Yet he humbled himself, even to death (Philippians 2:5-9). The first speaker concluded with these thoughts from Murray: "Humility is simply acknowledging the truth of [our] position as creature and yielding to God His place."
The second speaker, daughter to the first, talked specifically about the root of joy. She used several illustrations to do this. She started with a sunflower. Sunflowers are heliotropic, always turning to face the sun. The center is made of 1,000-2,000 smaller flowers. We also should orientate toward the Son and be part of a larger body (the church). Next, she used the recent flooding as an example of how God's love should overflow in every aspect of our lives, spilling over the edges, unable to be contained. She spoke about the people in her life that have come at just the right time, about the women that have ministered to her and that she has been able to serve. I could not help but think of the amazing examples in my own life. She concluded her thoughts by saying, "If you have something on your heart, God will supply what is needed if the motivation is love."
Then we painted our own sunflowers. My first painting. My Grandma was a painter. Interestingly enough, the first speaker knew my Grandma and Grandpa (not the grandfather mentioned above). This time with other women renewed my spirit.