Feel Good Friday: Head's Up Pennies
Posted On May 8, 2015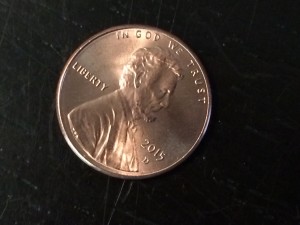 My uncle Bill was always on the lookout for "head's up pennies". I asked my cousin about this. She told me, "He used to say, ""See a head's up penny and pick up then all day you have good luck. If you don't see Lincoln's eye, let it lay or bad luck you'll have all day." He told us, "Every time you find a head's up penny it is me saying hello!"" I am not a particularly superstitious person, but since his passing in 2013, and even more often since my aunt's in 2014, I've found more change of any kind on the ground than ever in my life – usually in the form of a head's up penny. Once, while still in Germany, I even found a head's up Euro Penny, during the time my aunt was in the hospital, a day or two before her passing. Again, I'm not very superstitious, but like the above example, sometimes the timing of these discovered treasures seems as though a message is being sent, just for me. In those moments, I thank God for the reminders of His blessings. I strive to remember that each day with our loved ones is a gift and we don't know how many treasured days we will have with them on this earth.
Uncle Bill's quest for head's up pennies and his lost battle to ALS inspired several in our family to participate in the annual ALS walk, forming a team "The Head's Up Pennies". My uncle was an athlete and later a coach and teacher. He had the gift of inspiring young people to succeed. Some of his athletes believed all they had in life was their sport, but because of "no pass, no play" he challenged them to be more. He didn't like to see anyone slip through the cracks of the education system. He tried to find ways to engage even the most unreachable students. For those of his non-athletically inclined nieces, he never made us feel less worthy because our achievements were in other areas. Uncle Bill was very much like his treasured head's up pennies, a rare find that brightened our family. He is still missed, a place in the house and our hearts empty.
Left: ALS walk 2013; Right: ALS walk 2014
Dear family, friends, readers that I both know and don't know in real life: If you are a teacher, do not underestimate your influence. Even if you only inspire one student, you have made a difference in this world.
Follow me at Follow