Crock Pot Honey Dijon Pork Chops and Buttery Potatoes
Posted On September 24, 2013
Start by peeling and cutting up the potatoes (I actually have HUGE baking potatoes – this is just ONE!) I used butter flavored oil to coat the bottom of the crock pot. The results were amazingly delicious. Salt and pepper the potatoes fairly generously.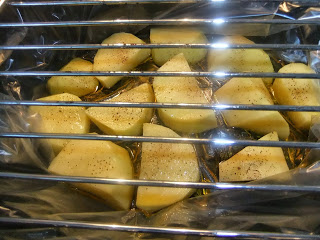 If you don't have a grill attachment, consider finding one, or engineer a solution of your own (I've seen some recipes where foil is used, but don't know if that would work here unless you individually wrapped the meat and potatoes).
Season each pork chop on both sides as desired. I used seasoned salt, cilantro, rosemary, and pepper (also consider using safe to ingest
essential oils
for maximum flavor). Some seasoning may fall on the potatoes, and that's okay. Next make your Honey Dijon Glaze – Mine is two parts Dijon Mustard, one part honey. Brush it on one side of the chop. After about an hour and a half, turn the chops and brush the other side, cooking for another hour and a half. Use any remaining glaze to top the chop before serving.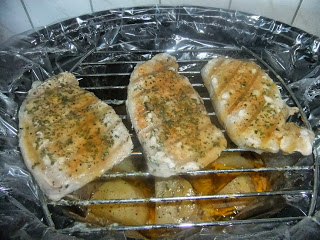 I've said before that this crock pot cooks fairly quickly, so the chops and potatoes were both done to perfection after about three and a half hours on the low setting.