Crock Pot Chicken and Dressing
Posted On January 21, 2010
or Stuffing, if you are like my husband. Whatever you call it, this is the easiest way you'll ever make it!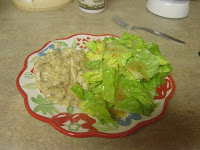 Maybe the entree isn't so pretty to look at, but this crock pot chicken and dressing is as yummy as it is easy to make. Whether you are busy with work, errands or just want to simplify your evening meal, this recipe will please your palate and fit into your schedule.
4 (3oz) boneless, skinless chicken breasts
1 can 98% fat-free cream of chicken soup
1/2 cup water (or for richer flavor – chicken broth)
1 box stove top stuffing mix
Layer in the crock pot (I like to mix mine a bit, and I use cooking spray on the crock pot), cook on low for 5 hours.
Though we don't agree on the name, this is one of my husband's favorites!