Chicken in Apricot Sauce
Posted On July 17, 2015
This is based on an old Weight Watcher recipe, but I tweaked for my family's allergy needs and my love of crockpot cooking.
1 lb. chicken*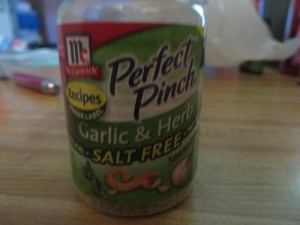 1 Tablespoon Garlic and Herb Seasoning**
1 Jar of all fruit Apricot preserves
1 Tablespoon Dijon Mustard
I combined all the ingredients in the crock pot, adding a little water and cooked on high for 4 hours. Tonight, I served the chicken with baked potatoes and green beans. The last time I made this chicken the kids ate it – not as much tonight. Kids are silly.
*You can substitute shrimp (deveined and skinned)
**The original recipe calls for 1 envelope onion soup mix (due to the contamination of allergens in soup mixes, we do not use this in our household)
As written in the WW instructions: In a small bowl, combine soup mix, preserves, and mustard. Pour over chicken/shrimp in a baking dish. Bake at 350 until done (15-20 minutes for shrimp, 20-30 for chicken). Serve with rice.
Follow me at Follow