Chicken Divan
Posted On February 7, 2011
This is a favorite of mine, though I have to make it half broccoli and half not in my house (for my husband and not my child!).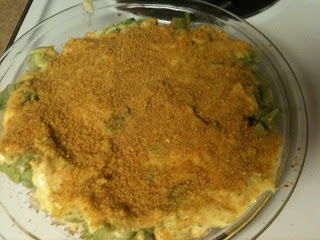 2 – 10 oz. package frozen broccoli
4 cooked, shredded (I use the food processor) boneless, skinless chicken breasts
1 can 98% Fat-free cream of Chicken soup
1 can 98% Fat-free broccoli cheese soup
1 tsp. lemon juice
1 cup shredded fat-free cheddar cheese
1/2 cup corn flake or bread crumbs
Mix all ingredients except broccoli and chicken and crumbs. Layer broccoli and chicken in the pan, then top with soup mixture. Top all with crumbs. Cook at 350* for 25-30 minutes. For extra flavor, I use butter-flavored non-stick spray on both the pan and then a quick spray over the crumbs (much less fat than using melted butter/margarine over the crumbs).