After worship last week, I planned to make cookies for Vacation Bible School. Instead, I took Madilynn to the Emergency Room due to an allergic reaction. After the Emergency Room, I messaged the few people in the short window of time in which I had no control over Madilynn's...
With the Domain move last week, I missed Seven Quick Takes. The past seven days have been full of scary, happy, and exciting things. This week the Caswell household has been Growin' up in the Lord for sure. ~1~ Obviously, in the past week, my blog moved to a...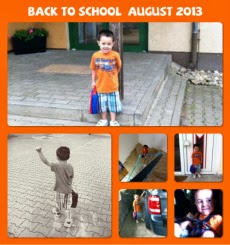 While not as packed with activity as July, August bustled with fun just the same. From VBS, to home fellowship, to Peter's birthday, every day held knew adventures. Dietrich also started back to the German Kindergarten and this year is a "Treff-Kinder" (one or two days out of the week, he and the...