Some moments are awkward. Some are emotional. Some are comical. Some moments just are. This week's seven quick takes is about my big moments this week. When you become an "older" woman On Saturday, we hosted our second annual ladies' day with our congregation. We served brunch and worshiped...
Wednesday night, I watched the powers of good and evil wrestle over souls overtaken by the devil's schemes. Two different battles enraged, each seeming to give over to the forces of darkness. Then, a single lantern illuminated Truth. Where did I witness such an epic scene? In the ballet "Unseen" on a...
Our congregation planted a tree in honor of our elder. The children of the church helped pile the dirt over the roots. The grandchildren of our elder watered the soil and (with assistance) lowered the tree into the hole. This was an emotional few minutes. My sweet Madilynn (who...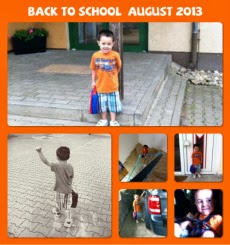 While not as packed with activity as July, August bustled with fun just the same. From VBS, to home fellowship, to Peter's birthday, every day held knew adventures. Dietrich also started back to the German Kindergarten and this year is a "Treff-Kinder" (one or two days out of the week, he and the...
A friend of mine had two "way back time machine" status updates this past weekend, focusing on the Story behind Easter. Each of these posts created vivid images with overwhelming emotions. Some of these thoughts I've had myself, but not as eloquently stated. Here is the first, fixing ones thoughts on crucifixion Friday: It's Sabbath, a...