Once upon a time, I dreamed of having a little girl who looked just like me. Three years ago, that dream began coming true. I didn't see it right away, but every day since, I see more of me reflected back in my sweet Rainbow Baby, Madilynn Janet....
If not for my various blogging link ups, I might not know the day of the week. I can barely form a coherent sentence when talking out loud (especially to other adults). Part of the time, I wonder if I even know my own name. I don't really want to move...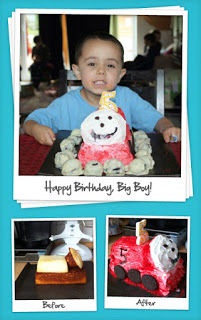 A train cake, of course. Thomas, he said, then he and I changed it to James because James is the #5 engine and red, his favorite color for now. To make it, I baked one regular loaf pan, one mini loaf pan, and one overflowing cupcake (all from one cake mix)....